PetQuip Awards set to reward outstanding achievements during pandemic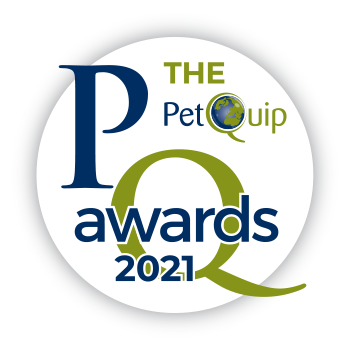 The prestigious PetQuip Awards will take on even greater importance in 2021 when it recognises outstanding achievements within the pet industry during the Covid-19 pandemic.
Two new categories – 'Innovations in Lockdown' and 'Community Projects during a Crisis' –
have been introduced this year to reflect on how well pet companies and individuals have excelled in the face of adversity.
Winning a PetQuip Award, which is recognised as a prestigious industry honour, could be just the tonic needed by companies which have been operating during the pandemic.
As well as the kudos of being recognised and rewarded for outstanding performance by the pet trade, winning a PetQuip Award will provide a welcome morale boost for pet product suppliers and retailers.
Entries for the 2021 awards are now open. Judging will take place in August and the plan is to announce the winners the following month at a special 'Oscar-style' event during PATS Telford on the 26th September.
"So many people in the industry have been asking when they can enter this year's awards that we decided to launch now," said Pat Flynn, award organiser and PetQuip's Trade Association Manager.
"Winning an accolade for your achievements, especially in times such as this, bolsters morale and gives any business more opportunities to promote their new product developments and successes."
PATS organiser Gordon Thomas, of Impact Exhibitions and Events, said: "It is important to bring the whole trade together after such a challenging period of time, and we're delighted to be supporting the prestigious PetQuip Awards for 2021. You can be sure that we'll be working even harder this year to make sure PATS Telford and the PetQuip Awards are the BEST in the business."
The PATS Telford New Product Awards, sponsored by pbwnews, will also be presented during the PetQuip Awards event and party.
The PetQuip Awards is the pre-eminent pet industry awards event and will take place in a new 'Oscar-style' setting with even more opportunities for the whole trade to celebrate, network, relax and enjoy each others' company.
The evening will start with a drinks reception, followed by presentations of the PATS New Products Awards and then the Oscar-style announcement of the winners of the PetQuip Awards will take place.
Guests will then be able to enjoy socialising during an international-themed buffet and informal evening entertainment.
The award categories are:
• Innovations in Lockdown
• Community Projects during a Crisis
• Business Start Up Award
• Business of the Year - services, manufacturing, wholesale and supply
• Product of the Year – 3 sections:
o Accessories/Technical
o Food /Treats
o Healthcare/Animal Grooming
• International Retailer, Wholesaler or Distributor of the Year
• Exporter of the Year
• UK Retailer of the Year
• Lifetime Achievement Award
Visit www.petquip.com to download the entry forms. PetQuip is happy to receive nominations for retailers and suppliers who in your opinion deserve to be winners. The nomination can be made anonymously, and PetQuip will always contact anyone who has been nominated to progress the entry.
Amanda Sizer Barrett, Director General of PetQuip, confirmed: "The PetQuip Awards, now in their ninth year, have consistently delivered recognition for the winners across the pet product industry, and are announced during a professional, enjoyable and successful networking evening for the whole industry. The PetQuip team is looking forward to delivering a great new-style event for all the industry during PATS Telford."
A digital edition containing reactions from PetQuip Awards 2020 winners can be viewed at https://bit.ly/3qQu7LB
If you would like to benefit from PetQuip membership or require any further advice and assistance, email info@petquip.com or visit www.petquip.com
For further press information contact:
Neil Pope
PR Consultant for PetQuip
Tel: 07595 442601
Email: press@petquip.com
This announcement has been issued by Neil Pope PR Consultant on behalf of The Federation of Garden & Leisure Manufacturers Limited from information provided by the Federation or from organisations associated with the Federation's initiatives. Reasonable steps have been taken to ensure that the information it contains provided is accurate. However, Neil Pope PR Consultant assumes no responsibility for information contained within the document and disclaims all liability in respect of such information. Neil Pope PR Consultant shall not be held liable for any losses suffered as a result of issuing this information to the press or its use within the media.