PetQuip reveals finalists for prestigious Industry Awards 2020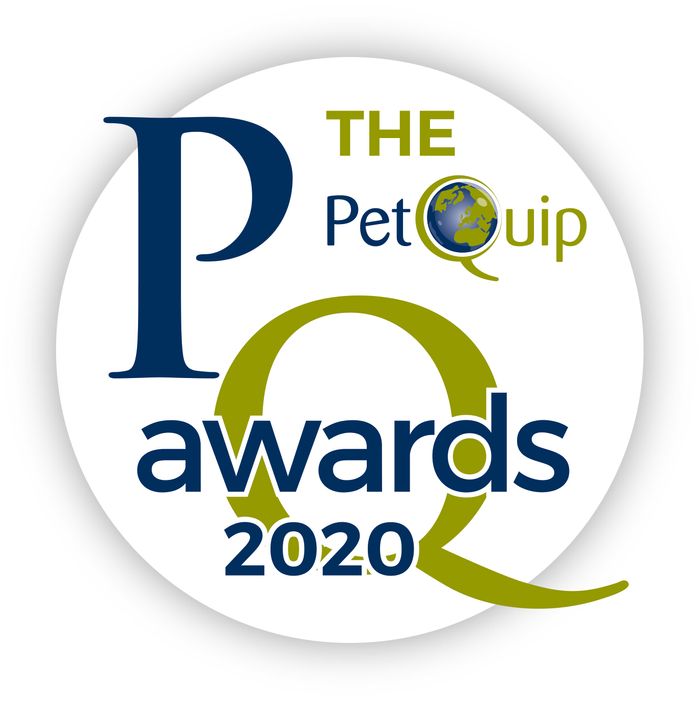 The PetQuip association has announced an impressive list of finalists for this year's Industry Awards.
Such is the popularity of the awards that several hundred entries have been received, and these have now been whittled down to a list of 45 finalists.
PetQuip has devised an innovative new way to recognise outstanding achievement within the trade, following the cancellation of PATS, the UK's number one pet industry exhibition, due to take place at Telford this September.
To ensure maximum exposure for the finalists and the winning companies and their products, PetQuip and the awards headline sponsors – APPA/Global Pet Expo, pbwnews, Natures Menu and PATS – will be supporting a wide-ranging PR campaign for the finalists and award winners throughout the UK and international trade media.
The Highly Commended, Silver and the Gold award winners will be announced in September in a special online publication.
"We will profile all the finalists and the ultimate winners in this publication, which will then be followed by a Winners' Special Edition," says Pat Flynn, PetQuip's Trade Association Manager. "There will also be extra promotion for the successful companies on both the PetQuip and PATS websites."
"We're proud to announce our finalists for 2020 and we are looking forward to celebrating the industry's successes in this exceptional year and to providing widespread additional promotion for the finalists, winners and our sponsors."
Judging will be carried out by an independent judging panel, including industry experts and pet retailers, on August 25.
PetQuip Awards Finalists 2020
Marketing Project of the Year
Barking Heads
Judge's Choice
Lucky & Prince
ProDog Raw
Sniffe & Likkit
WaggleAntics
Exporter of the Year
ChickenGuard
Eden Holistic
Natures Menu
Product of the Year – Accessories/Technical
Adios
Collar Co
Green Angels
Goodchap's
Lah De Dah Dog
Meg Heath Dog Leads
Product of the Year – Food/Treats
Clydach Farm
Different Dog
Eden Holistic
Goodchap's
Forthglade
Lucky & Prince
Mealberry
Natural Instinct
Natures Menu
Pet Munchies
ProDog Raw
Product of the Year – Healthcare/Grooming
Allsorts Premier
Henry & Co
ProDog Raw
Sniffe & Likkit
WaggleAntics
Supplier of the Year
C&D Foods
Different Dog
Eden Holistic
Four Paws Country Pet Hotel
GHS Direct
Goodchap's
Meg Heath Dog Leads
Natures Menu
Pet Munchies
International Retailer/Wholesaler/Distributor of the Year
IRIS, Slovenia
KIKA Group, Lithuania
TiendAnimal, Spain
Vitafauna, Spain
Wanimo, France
Warmako, The Netherlands
UK Retailer of the Year
Ginger & Browns, Blakemere Village, Cheshire
Henry & Co Dog Boutique, Arbroath, Scotland
Redpaw Pet Supplies, Plymouth, Devon
Trusty Pet Supplies, Derby
Scampers Natural Pet Store, Ely, Cambs
Lifetime Achievement
To be revealed in September 2020 when all the winners are announced.
"We are sad not to be able to meet all our awards finalists and winners in person as usual this year at PATS during our awards event and party. But we have arranged to celebrate the achievements of our entrants in an innovative way which will benefit every participant – a positive benefit in a year when our industry has been facing unprecedented challenges," said PetQuip Director General Amanda Sizer Barrett.
Please contact PetQuip if you would like to benefit from membership of the association or require any further advice and assistance on:
Email: info@petquip.com
Websites: www.petquip.com
For further press information contact:
Neil Pope
PetQuip PR Consultant
Tel: 07595 442601
Email: press@petquip.com
This announcement has been issued by Neil Pope PR Consultant on behalf of The Federation of Garden & Leisure Manufacturers Limited from information provided by the Federation or from organisations associated with the Federation's initiatives. Reasonable steps have been taken to ensure that the information it contains provided is accurate. However, Neil Pope PR Consultant assumes no responsibility for information contained within the document and disclaims all liability in respect of such information. Neil Pope PR Consultant shall not be held liable for any losses suffered as a result of issuing this information to the press or its use within the media.