Poppy's Picnic Adds New Pheasant BITES to its TASTY Treats Range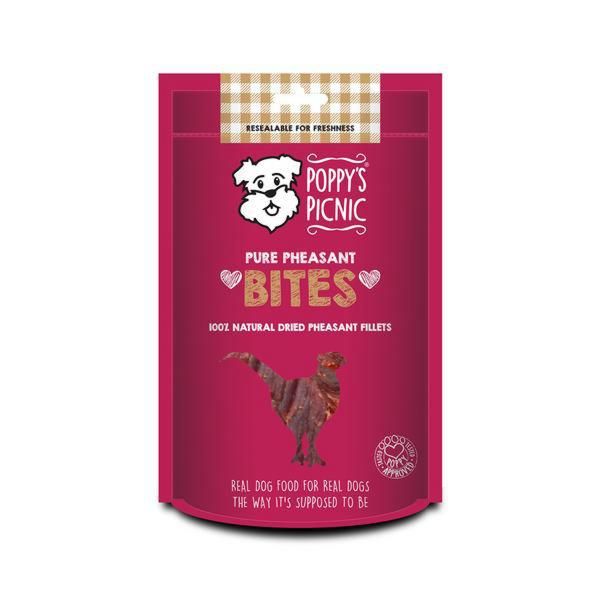 Poppy's Picnic Pheasant Bites are naturally low-fat and made in the UK. The new dog treats are tasty little morsels of air-dried pheasant breast fillet, and weigh in at 60g per pack. They are gluten free and hypoallergenic, making them suitable for dogs with food intolerances.
Dylan Watkins, founder of Poppy's Picnic, discusses the new bites: "Many dog owners face the issue of feeding their dog a selective diet due to food intolerances. These can often be triggered by the fillers and grains that are unnecessarily added to many processed pet foods and treats. Our new bites are 100% pure air-dried pheasant breast with no hidden nasties. They provide a high protein treat and a natural source of collagen, whilst being low in calories."
Treats should always be accounted for as part of a dog's daily food allowance and should only amount to approximately 15% of their diet. The size of the bites can be adjusted based on the size of the dog. If the dog is smaller in size, the treats can be modified by being cut into smaller pieces so they are easier to consume.
The TASTY Pheasant Bites join the wider TASTY range of air-dried treats which also includes: Dried Ox Heart Bites, Dried Venison Bites, Dried Liver Bites, Dragon Skin Bites and more. Each of these treats are made from 100% dried meat, and contain no added preservatives or fillers of any kind.
Poppy's Picnic aims to make feeding a raw food diet easier. Its ranges of fresh, raw Mince and exclusive Meatballs are easy-to-feed to dogs of all breeds and sizes, whether you want to make a complete switch to raw feeding or add an occasional boost of freshness to wet or dry food. The all-natural meals contain ingredients such as fresh raw meat, garden-fresh vegetables and ground bone. No weird ingredients you don't recognise, no chemical flavourings, no grains, fillers, or artificial additives – just natural dog food, freshly prepared for your convenience. Poppy's Picnic TASTY treats fit perfectly into the diet and are prepared in the most natural way possible. The all-new Poppy's Picnic Pheasant Bites are simply 100% dried breast fillet slices and nothing else.