ProDog Raw launches new Exotics Protein Range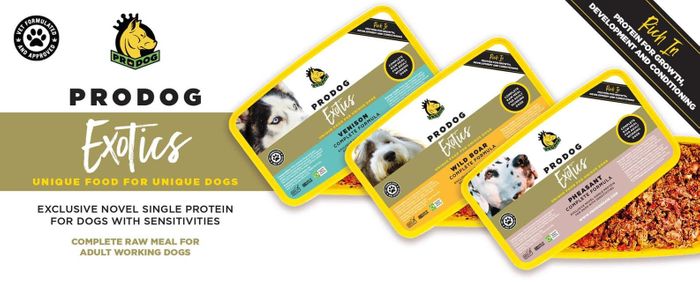 The Exotic Range was formulated in collaboration with leading holistic vets and canine nutrition experts and boasts a selection of complete formula meals, suitable for dogs 24 weeks old and above. Full details on the range can be found here: https://www.prodograw.com/?s=exotic
The meals contain a blend of pasture reared and ethically sourced quality fresh meat and ground bone, with the wild boar meal also containing offal. Also packed with leafy seasonal greens, kelp, inulin and are infused with top quality flaxseed and hemp oil.
The Exotic range is suitable for any dog, whilst also offering specific benefit to dogs with sensitivities, intolerances or allergies to more common ingredients such as chicken and beef. The meal recipes provide single novel protein options suitable to support elimination or exclusion diets. *.
The three Exotic meals currently available, are:

Exotic Complete Raw Venison Formula - £2.95 per portion.
A super-lean novel protein source, venison meat is known to be rich in essential amino acids, exceptionally nutrient dense and lower fat than traditional proteins.
Exotic Complete Wild Boar with Offal Formula - £2.95 per portion.
Known to be a "cooling" meat, beneficial to inflammation and therefore sensitivities. This option is ideal for dogs on elimination diets, with intolerances to more commonly farmed meats
Exotic Complete Raw Pheasant Formula - £2.95 per portion.
As a game bird pheasants roam free and have access to an abundance of grass, nuts, seeds and berries making their meat low fat, highly nutritious and super-tasty.
ProDog Raw's Exotic Range is designed to support the vitality of any dog through simple and easy feeding. Once defrosted, ProDog Raw's Exotic meals can be served in moments, by popping the lid and letting dogs tuck in. For dogs with particular deficiencies or dietary requirements, ProDog Raw supplements can be added and mixed into daily raw feeds if necessary.
ProDog Raw is a raw dog food specialist that was started in 2016, and champions healthier lifestyles and diets for dogs with an expanding range of premium, human-grade ingredients. Its main goal is to raise awareness of the dangers that heavily-processed food presents to dogs and how reverting to a natural diet can benefit a dog's appearance, behaviour and health. ProDog Raw has just released raw feeding guides for over 300 dog breeds, and has information on average weights and a handy calculator to work out feeding amounts for each.
Heidi Maskelyne, founder of ProDog Raw, said,
"Since launching ProDog Raw in 2015, our mission has always been to give every dog access to the most nutritious diet possible regardless of their age, breed or size. To do this we're constantly innovating, ensuring we provide meal options that meet the needs of ALL dogs and fuel them to live their best lives"
"This is why we've invested so much time and resources into creating our Exotic range - which consists of three perfectly balanced meals, aimed at fulfilling a dog's nutritional requirements at an optimum level. At the moment we offer; Venison, Pheasant and Wild Boar recipes, but our team is working around the clock to incorporate more exotic options into our product range."
*https://www.petmd.com/dog/nutrition/healthy-foods-checklist-venison-dogs