26 Aug 2021
ProDog Raw's annual 'Ditch The Dry' campaign coming to close for second year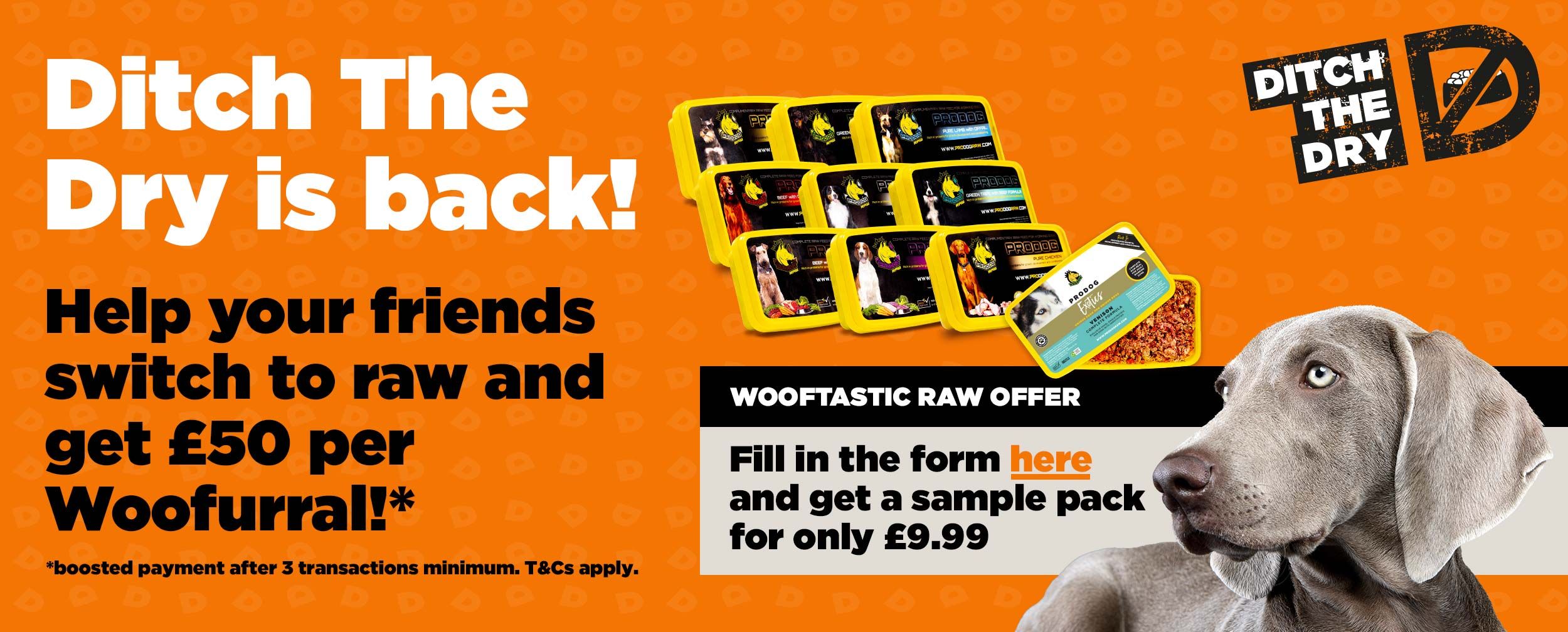 Created by raw dog food brand ProDog Raw in 2020, 'Ditch The Dry' is relaunching for the second year this month, to educate pet owners on quality dog nutrition. Running for the duration of August, the campaign aims to educate and advise people on the best food to feed their dog, encompassing all breeds, ages, health conditions and food preferences. In its inaugural year Ditch The Dry reached thousands of people; ProDog Raw is confident they can reach even more in 2021 with increased marketing spend and activity this year.
Full details on the campaign can be found here: https://www.prodograw.com/ditch-the-dry/
Backed by vets and canine nutritionists, Ditch The Dry is a month focused on educating dog owners on the impact nutrition has on their pet's life, health and wellbeing - as well as gain a better understanding of the dangers posed by processed diets like dry kibble and wet dog food, which have been linked to health conditions like obesity*.
Throughout the month ProDog Raw will be collating information from high value sources to answer questions and advise the public with its Knowledge Centre, to ensure dogs are receiving the best possible diet. The brand is also running promotions such as £50 cashback for customers who refer a friend during August, a discounted sample pack including free delivery and treats, as well as promoting Conor Brady's book 'Feeding Raw' through a competition, which is also offering #DitchTheDry entrants a chance to win six months of free ProDog Raw food.
The Ditch The Dry Knowledge Centre will include insights and science-based facts on raw feeding, practical support to transition from dry to raw feeding from; vets, canine nutritionists, dog trainers, sport dog trainers, professional breeders, dog foster carers, and holistic therapists.
The campaign is endorsed by a number of leading canine experts and designed to encourage dog owners to be bold and try making the switch to a fresh, clean, natural raw diet.
ProDog Raw is a raw dog food specialist that was started in 2016, and champions healthier lifestyles and diets for dogs with an expanding range of premium, human-grade ingredients. Its main goal is to raise awareness of the dangers that heavily-processed food presents to dogs and how reverting to a natural diet can benefit a dog's appearance, behaviour and health. ProDog Raw has just released raw feeding guides for over 300 dog breeds, and has information on average weights and a handy calculator to work out feeding amounts for each.
Heidi Maskelyne, founder of ProDog Raw, said,
"After investigating dry kibble and wet food ingredients I was shocked to discover what rubbish was allowed to pass as food, which is why I launched ProDog - to call it a passion project would be an understatement! Our Ditch The Dry campaign is all about educating owners on good pet nutrition, and how it can be weaved into everyday life easily and cost-effectively, because currently the accepted norm of highly processed food is damaging our pet's health, and it's time for that to stop."
*https://pubmed.ncbi.nlm.nih.gov/32722190/