Quality and quantity on show at the biggest-ever PATS Telford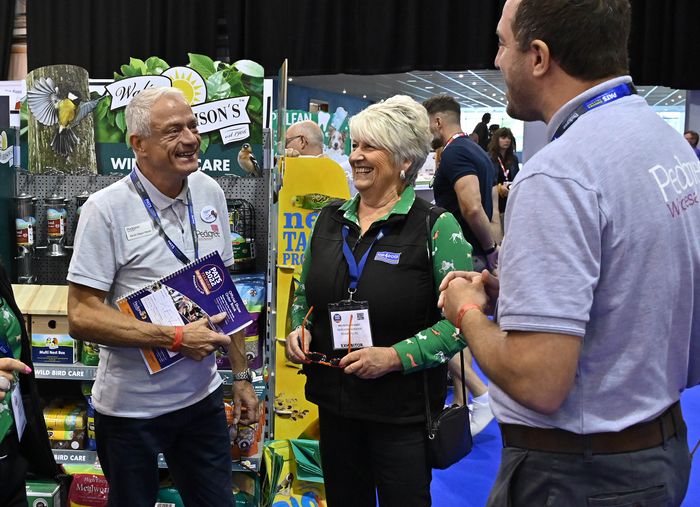 Quality – and quantity – were the themes of the bumper PATS Telford 2022 show, with exhibitors and visitors alike commenting on the amount of great business being done across the two days.
The second day started off as busy as the first with pet retailers and industry professionals flooding through the doors eager to see the array of innovations coming to market.
With more than 240 companies and brands showcasing hundreds of new products in all three halls of Telford International Centre for the first time, it proved to be a record-breaker.
Exhibitors found they were busy from the start with a steady stream of inquiries. Tropiclean, which was represented by Pedigree Wholesale, experienced lots of interest in its New Product Award-winning product range. The company's Paul Mercer said: "We've had a fantastic time. It's great to see so much support for the show and I've been particularly impressed with the quality of buyers."
First-time exhibitor Pawsome Paws Boutique was thrilled with its decision to take a stand with managing director Jason Chesman saying: "The professionalism of the exhibition has really stood out, and everyone has been extremely helpful. As well as raising the profile of our products, we've been able to network with so many people within the industry."
Other first-time exhibitors have also been impressed. Matt Terrell of The Stately Hound said: "It's been fantastic, generating a good number of leads, including some big retailers. We've been mainly an online business until now so it's great to be able to show people the quality of our UK-made product and get such positive feedback."
And Maxime Courant, Export Manager at Milk & Pepper, said: "It's so much more intimate than exhibiting at the big International Shows in Europe. It has been perfect for reaching the English market, with its groomers, independent and boutique shops."
The show also got the thumbs-up from visitors, who flocked to the show on both days.
PATS Telford welcomed international visitors Mireia Sabate, a pet store owner from Spain, and her distribution company Petwork Marketing, which she jointly runs with her British partner Rob James. The couple travelled 1,000 miles from their base in Barcelona, and Mireia said: "Attending PATS proved vitally important and super-helpful to our business. The show was so really well laid out, organised and delivered."
While pet store owners Nate Garton and Mary Ann Ferry, of DNA Pet Supplies in West Yorkshire, did not have quite so far to travel they were equally as impressed with the show. Nate said: "We come looking for specific products for our customers and we always know we will find something perfect. We wouldn't hesitate to recommend the show to other retailers."
Award-winning pet retail group Just for Pets agreed that PATS is a must-visit for pet stores. Senior merchandiser Leanne Blunn said: "It's a great place to see everything that's new to the market, and encouraging to witness so many new brands entering the scene."
With an increasing number of pet retailers introducing grooming salons into their stores, the PATS programme of seminars and demos, in association with Peanut & Pickle, provided invaluable insights into this side of the business.
On both days of the show expert groomers gave demonstrations of specialist grooming techniques, including Asian-style Grooming, Creative Grooming, Pet Trim and Traditional Trim, as well as advice on how to grow your grooming business.
Kara Boyd, who appeared in the BBC One hit series Pooch Perfect, said: "It was great to be able to share the knowledge I have gained over the years, and exchange tips and advice with other groomers. It is such a valuable occasion, being able to learn more about our pet industry, and meet new people."
Dates for the diary:
PATS Sandown 2023 – Sandown Park, 26-27 March 2023
PATS Telford 2023 – Telford International Centre, 1-2 October 2023
Ends
Photographs of PATS Telford are available to download from https://stewartwrittle.dphoto.com/album/xyaf42
For more information contact Neil Pope at press@impact-exhibitions.com