Record numbers visit PATS Sandown on new dates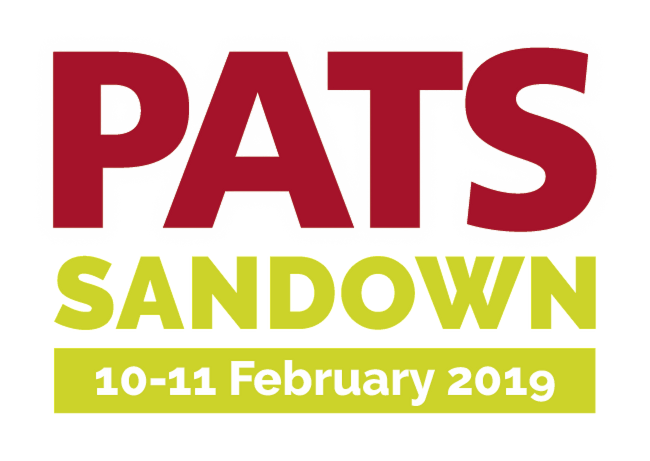 Retailers and pet product buyers have given PATS Sandown's new Sunday-Monday slot in February a massive thumbs up by visiting in their droves.
This year's show attracted 1,993 visitors, which is a record in the show's 11-year history. This compares with last year's visitor numbers for the March date of 1,801 and represents an 11% increase year on year.
There was a great buzz throughout the Surrey and Esher Halls as buyers and exhibitors discussed the innovative stands and great new products on show, creating a surge of activity over two days of business at the Sandown Park venue in Esher, Surrey.
The show closed with visitors and exhibitors agreeing it had been a huge success, with the event delivering an unrivalled platform for the launch of hundreds of exciting pet product innovations.
The New Product Showcase, sponsored by pbwnews, was a busy area throughout the event, and retailers admitted they were spoiled for choice as they decided on which items to stock in their stores for the year ahead.
Exhibitors agreed the quality of visitors to their stands was exceptional, and there was a great degree of confidence being shown despite economic uncertainty caused by Brexit.
Grooming demonstrations and workshops returned to the Sandown exhibition after a two-year absence and they were a hive of activity throughout the show. The series of seminars also proved very popular with visitors.
Tom Neish, founder of Yora Pet Foods, said: "This has been my first ever trade show and I can't quite take in the fabulous response to our trailblazing new dog food. We've had a really good mix of people coming on to the stand, which has been busy on both days of the event."
Laura Redstone, For All DogKind, commented: "This show was important to us because it provided the ideal time and place to launch our new range of supplements, and we have been really pleased with the response – in fact it has been non-stop for us since the doors opened."
It was a similar story for Aquamat Chiller, whose Alison Roberts said:
"We haven't stopped since we arrived at the show and what's more the interest has come from independent retailers, which is the market we were aiming at. The show has been amazing."
More than 40 exhibitors were new to PATS Sandown and among them were Coucour, whose sales manager Jorge Aguilera said: "Congratulations to PATS. Your show is fantastic – we were just at a Paris exhibition a month ago and in comparison the organisation here is so smooth. We've had a very enjoyable two days."
Paul Mercer, UK sales manager of Tropiclean Pet Products, added: "We've been very impressed with the outcome. The set-up was very straightforward, everything has worked well and it was great to see such a full house in terms of visitors."
There was a strong international presence at the show, including wild bird care specialists Bon from Bulgaria. Petar Yordanov said: "It's our first PATS show and we have been impressed with the quality of visitors. We wanted to raise awareness of our wild bird foods and treats and the reaction has been great."
Peter Radonyi, from Hunagrian company TICKLESS, added: "I've been amazed at the quality of retailers and buyers attending PATS. It's our first time at Sandown and we couldn't be happier. It has been well worth the trip and we'll certainly exhibit again."
The mood amongst visitors was summed up by Tina Quest, a senior buyer at Redpaw Pet Supplies in Plymouth. She said: "This show has everything – a great selection of exciting new products and a wide variety of exhibitors. As retailers we are spoiled for choice. We have spent far too much money on new stock for our shop but the investment is well worthwhile. It has been a brilliant show."
Jacqui Thompson, owner of Wag & Bone boutique, Aldborough, Suffolk, commented: "We're opening up shop next month and it's really important for us to be able to see, touch and feel the products we want to stock. Coming here has been great because ordering over the internet or the phone is just not the same."
And Laura van der Wee, a buyer at Brick Kiln Garden Centre, Chichester, Sussex, said: "What a great show. We're here looking for stock to add something to our repertoire – additional items that people don't know they need until they see them – and we've had a few ideas. We come here to order all our new pet stock that will sell really well over the next few weeks and months."
Organiser Gordon Thomas said: "We're so pleased the move of dates to a Sunday and Monday in February has been a huge success. We love running this exhibition and it's great to hear that exhibitors and visitors have experienced a brilliant show, demonstrating that PATS is the show for serious buyers of pet products."
Date for the diary
PATS Telford takes place on September 22-23, 2019.
Photographs from the show are now available to download
1. Visit www.sirastudio.com
2. Click on Client Web Galleries
3. Click on the Conference and Exhibitions folder
4. Click on the PATS Sandown 2019 folder
5. On the password screen enter: pats19sandown
For more information contact Neil Pope at press@impact-exhibitions.com or on 07595 442601.