Register now for free entry to the UK's No.1 pet industry exhibition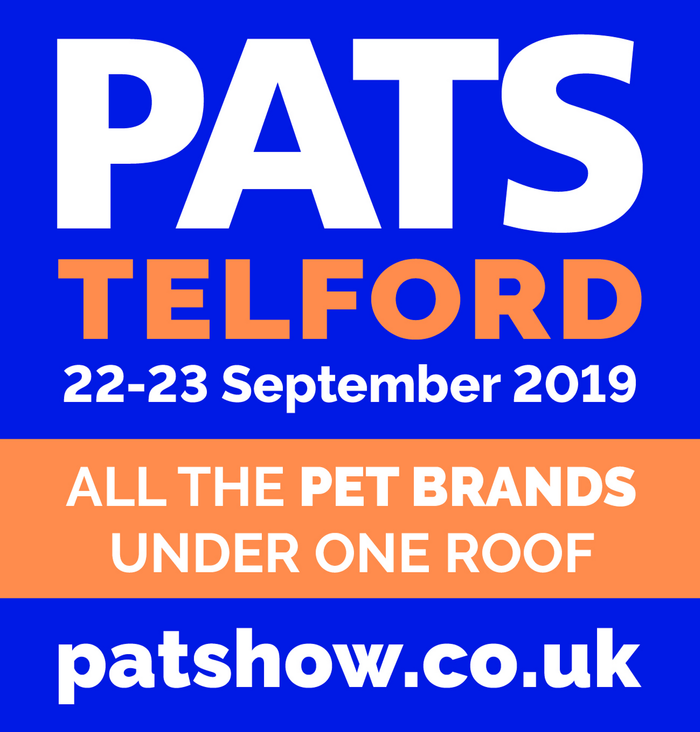 Pet stores and garden centres are being urged to register now for free entry to PATS Telford, the UK's number one pet industry exhibition, where leading brands will be showcasing their new products and services under one roof.
With so many exciting plans for 2019, PATS Telford is shaping up to be another memorable event in September.
With still three months to go before the show opens, more than 180 companies have already booked their stand space, so retailers and buyers can be certain the exhibition hall at The Telford International Centre will be packed with hundreds of new products.
As well as meeting up with a long list of PATS regulars, visitors will be greeted by a host of new faces when the show takes place on Sunday, September 22, and Monday, September 23, 2019.
So why should retailers register now for free entry to the two-day exhibition? Here's just a quick summary of popular visitor attractions:
The biggest ever showcase of new pet products
Unrivalled show offers and competitions
Top groomers giving insightful demonstrations, workshops and talks
Leading pet industry figures delivering informative seminars
Sheila Campbell, who owns Hamilton's House dog boutique in the Cotswolds, revealed why PATS exhibitions play a crucial role in helping retailers choose the right pet products for their stores.
"Visiting PATS helped me launch my business because I found everything I needed for my store," said Sheila. "Seeing all the latest products under one roof was perfect. It's a must-visit exhibition."
Parking is free at the Telford International Centre, and everyone will receive free tea and coffee, and a free show catalogue.
You can register on line at www.patshow.co.uk where you'll also find a full list of visitors and information on how to reach the venue.
Inspired Pet Nutrition were the first company to book a stand with PATS in 2009 under the Wagg brand, and have exhibited ever since. Sales Director Ben Anderson revealed why PATS Sandown and Telford are the only UK pet trade shows that IPN will be supporting going forward.
"PATS gets better year on year in terms of visitor numbers, quality of visitor, event timings and location," said Ben. "As a major manufacturer, we know that the show will deliver the level of retail buyer that we are targeting with our new product launches and wider branded ranges. Since day one PATS has been a successful show for IPN, organised by people that truly understand the pet market and the calibre of customer that we are looking to see on our stand."
These sentiments were echoed by Jo Boughton-White, MD of Dorwest Herbs, who said: "We consider PATS to be the most important trade shows in our calendar. These exhibitions are the perfect platform for us to launch new products to the right people, the decision makers in the pet trade industry! Not only that, but they are the perfect opportunity to meet current customers under one roof."
And Greg Van Praagh, of Benyfit Natural, commented: "PATS Telford is great, it's a show where you get triple bites of the cherry – you get to launch new products, meet new customers and talk to existing customers. It's all about getting feedback from people, and being able to maintain those great connections."
September's exhibition is also an important event for Billy + Margot. "PATS Telford is a must-do for the brand," said Helen Ellwood, Head of Commercial Sales & Marketing for parent company RPFC Group UK. "It's going to be key for us this year to re-engage with our independent retail customers, allowing them to see how the brand has changed, developed and grown, while showcasing our new range. It's a show that is trusted and known, and we don't underestimate its influence and the longer-term benefits for our brand."
This year will be the third time Purely Fish has exhibited at PATS Telford, and Karen Scott, Head of New Business Development, stated: "For an emerging brand such as Purely Fish, both Telford and Sandown are really important shows for us. These exhibitions enable us to not only showcase our growing range of 100% fish-based natural dog and cat food, to buyers from the larger pet wholesalers and retailers, but also meet the independent stockists and international buyers. We have enjoyed great success in exporting to new countries."
For GWF Nutrition it will be the first time the company has exhibited at PATS Telford. Marketing Manager Helen Hounsell explained why the company decided to book a stand. "After visiting Sandown we were impressed by the scale of the event and potential for trade exposure and were keen to be involved. It's a well-organised and sizeable show - and a great opportunity to meet a wide range of retailers face to face and showcase our pet supplements range. We're looking forward to meeting retailers we haven't worked with before, as well as reconnecting with our current stockists and providing fresh product information and some great show offers."
The September exhibition also plays host to the prestigious PetQuip Awards, which will be presented at a gala dinner on the evening of the first day of the show. These awards have consistently delivered a professional, enjoyable and successful networking evening event for the whole industry where suppliers and retailers can mix, have fun and celebrate the industry's many successes.
Photographs from PATS are available to download
1. Visit www.sirastudio.com
2. Click on Galleries
3. Click on the Conference and Exhibitions folder
4. Click on either the PATS Sandown 19 or PATS Telford 18 folders
5. On the password screen enter: pats19sandown or pats18telford respectively
For more information contact Neil Pope at press@impact-exhibitions.com or on 07595 442601.