Santa Paws: world's most sustainable dog treats launch in time for Christmas 🎄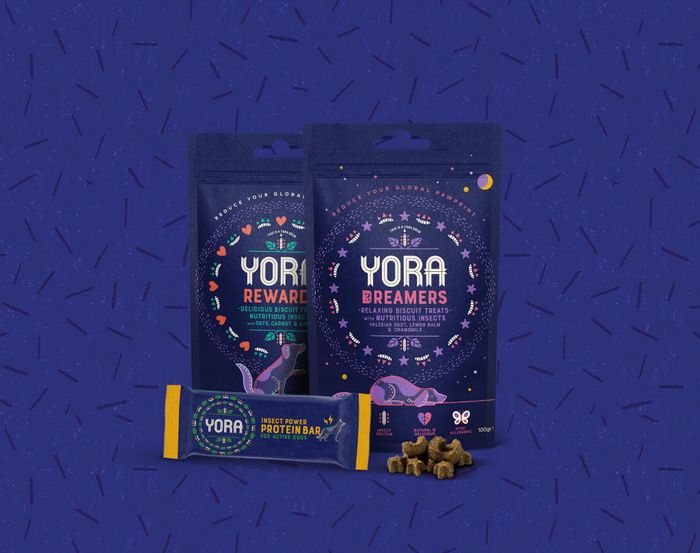 An antidote to the worrying trend for feeding human grade meat to dogs and cats, Yora helps pet owners to reduce their meat consumption whilst providing pets with all the nutritional benefits they need. The British Veterinary Association supported this move towards an insect diet in October, stating 'some insect-based foods may be better for pets than prime steak'[1].
The new protein bar is 50% insect and packed with nourishing botanicals including beetroot and spinach which have high vitamin and mineral levels to aid recovery during and after walks. Insects are a highly digestible protein, providing a great energy boost, and the cold pressed rapeseed oil gives dogs a glossy coat.
Yora's Dreamers bedtime biscuits contain valerian root, chamomile and lemon balm to help soothe your dog ready for a good night's sleep. The grub meal provides just the right amount of protein and British oats will ensure a full tummy until breakfast time.
The Yora Rewards training treats are full of flavour and low allergen, providing a healthy treat to reward any deserving pooch. Yora's sustainable credentials also extend to its packaging, which is fully compostable, and all of the new treats are hand baked in sustainable, reclaimed wood chip ovens.
When compared to beef farming, Yora's grubs generate 96% less greenhouse emissions and grow naturally at a rapid pace, reaching full size in just 14 days, so there's no need for growth hormones or antibiotics.
Will Bisset, head of innovation at Yora, commented: "During the past 18 months, there has been a palpable shift in the public consciousness and more people than ever before are trying to green their lifestyle. As the pioneers of sustainable dog food, Yora already offers a nutritionally balanced and delicious diet for dogs, as well as peace of mind for environmentally conscious pet owners.
"Now we're adding a brand new range of Yora treats to complete the product portfolio and our doggie taste testers love the final result. We hope it's going to mean a very 'yappy' Christmas for dog owners who can treat their pooch to a planet-friendly present and banish eco-anxiety for good."
Yora treats will be available to buy online or from independent pet stores from Monday 2 December. To find out more visit yorapetfoods.com or search #YoraExplorer on social.
Yora Protein Bar – RRP £2.29
Yora Dreamers (Bedtime Biscuit) – RRP £4.69
Yora Rewards (Training Treat) – RRP £4.69
---
[1] BBC News, https://www.bbc.co.uk/news/science-environment-49450935