Smiles all-round as PATS Sandown gets off to successful start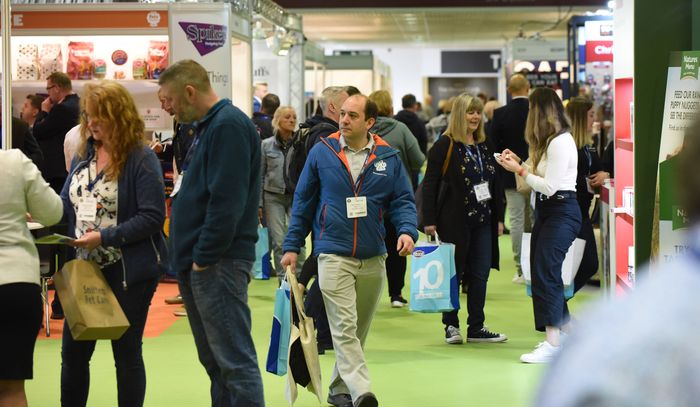 It was smiles all-round on the opening day of PATS Sandown as retailers and suppliers got the chance to meet face-to-face at the UK's Spring pet industry exhibition for the first time in two years.
Visitors welcomed the opportunity to see, feel and touch hundreds of new products unveiled by more than 130 exhibiting companies and brands.
Retailer Lisa Baptiste, of the Perfect Pet Nanny, summed up the mood of the show, stating: "It's a brilliant show. It was such a shame that last year's show had to be cancelled because of the pandemic because I really missed the chance to talk directly to my suppliers. It's great to have it back and lovely to see all the new products.
Yogi Kanani, owner of York Pet Supplies, also welcomed the show's return. "I love this exhibition because it's vital to my business. It helps me to reconnect with companies and gives me the opportunity to see all the new products and trends. It's also great to take advantage of all the show offers."
The first day of the show also got the thumbs-up from exhibitors excited to showcase their products in front of a captive audience.
Cheryl Parry, head of marketing at The Barking Bakery, said: "We've taken a much larger stand this year and it has paid off big time. The response so far has been incredible. If I had to describe how I feel about the show in one word it would be WOW."
Voyager was exhibiting at PATS for the first time and it couldn't have worked out better for the company new to the pet industry. After winning a New Product Award for its Hemp Shampoo for Pets, marketing executive Rachel Meyer commented: "We're really excited to be here and can't believe we won an award. There has been lots of interest in our range – it has been amazing."
Another New Product Award winner, Pet Remedy, was also delighted to pick up an accolade for its Natural Calming Puppy Hamper. Sales director Rob Tyler commented: "The interest shown in this award-winning product has been phenomenal. There has been a huge surge in pet ownership over the past two years, so retailers and buyers are welcoming this product. It's great to have the opportunity to launch it at such a prestigious event as PATS."
There was a welcome visitor on the Danish Design stand where the company showcased its new range of Battersea dog beds. Rescue dog Reggie visited the show with owner Alice Hunt, a Battersea volunteer, to test out the beds. "He certainly gave the range the paws-up," said Alice. A percentage of all sales of the beds is being donated to the charity.
The second day of the show opens at 9.30am on Monday (March 28th).
Ends
Official photographs
Photographs from the show will be available online at https://rileyphotos.dphoto.com/album/y8p2d2