Soopa expands its plant-based range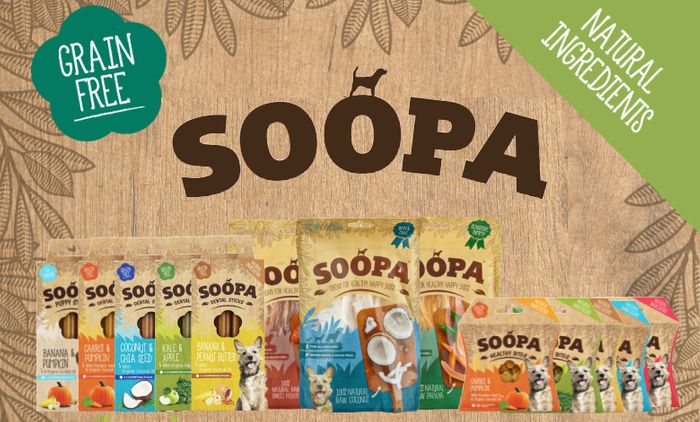 Barbara knew that dogs enjoy eating fresh fruit and vegetables, before long she had
established her brand Soopa which was among first to market with plant-based treats
and has gone from strength to strength since 2013, growing with double digits on a
yearly basis in UK and Europe. Substantial growth is also coming from Asian countries
among which South Korea is performing exceptionally, with Soopa appearing in national
TV campaign. Today Soopa is available to buy from main distributors such as Pedigree,
Su-bridge, Ocado and Vital Pet.
After years of hard work, Soopa is proud to announce expansion in their product
portfolio:
Banana & Pumpkin PUPPY Dental Sticks are a hypoallergenic grain free treat made
with 100% natural banana and pumpkin. Suitable for pups over 3 months old and older
dogs and dogs who have difficulties chewing. The launch of the product is the answer to
the strong demand for puppy range especially during the pandemic.
Followed by the double growth of Dental Sticks, Soopa expanded their healthy training
bites range with two new popular flavours: Banana & Peanut Butter and Coconut &
Chia Seed. These small bite sized pieces are excellent to use for training. They come in
a handy, pocket friendly, resealable pillow pouch so you can use them on the go.
''I am excited we have come so far with Soopa and customers recognising the quality in
our products. We will soon be launching more products for puppies and large breeds.
This way we will be able to offer a full range covering all stages of dogs life. Also, a new
range of Soopa products will be launched in autumn. It is an overly exciting year for
Soopa!'' said Barbara Hanly, the owner.
All Soopa products - Dental Sticks, Healthy Training Bites and All Natural Chews- are
100% plant based and natural and tick all the benefits customers really care about:
hypoallergenic, grain/wheat free, high quality human grade ingredients, low fat, low
calorie and with 100% recyclable packaging. Suitable for dogs with Digestion