Star line-up for grooming demos at PATS Telford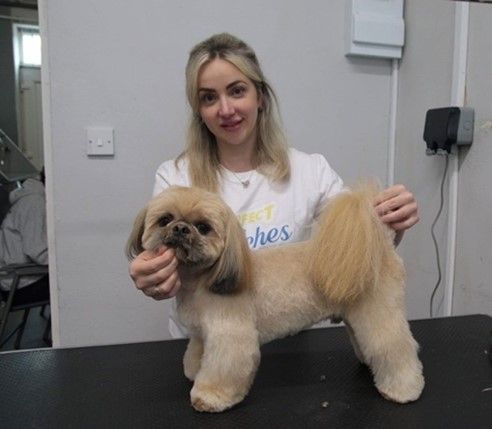 PATS Telford has lined up a star-studded list of professional groomers for an unmissable series of demonstrations at the UK's National Pet Industry Event on 25-26 September 2022.
With an increasing number of pet retailers introducing grooming salons into their stores, the PATS programme of seminars and demos will provide invaluable insights into this side of the business.
On both days of the show expert groomers will be giving free-to-attend demonstrations of specialist grooming techniques, including Asian-style Grooming, Creative Grooming, Pet Trim and Traditional Trim, as well as advice on how to grow your grooming business.
The demonstrations will highlight the knowledge and expertise required to complete traditional grooming techniques successfully as well as showing off a few modern and creative ideas. There will also be information on tools and products for the everyday groomer, plus tips and tricks to increase salon revenue.
The grooming activity at PATS Telford is being produced in association with Peanut and Pickle. an all-natural canine skincare brand.
Kara Boyd (pictured) appeared in the BBC One series Pooch Perfect, which became an instant hit with viewers during the pandemic.
Kara, who runs Fairy DogMother in Cambridgeshire, said: "I'm honoured to be making an appearance and taking part in this year's PATS pet trade show. I can't wait to be able to share the knowledge I have gained over the years, and exchange tips and advice with other groomers. It is such a valuable occasion, being able to learn more about our pet industry, and meet new people. See you there."
Holly Briden, who owns grooming salon Doggie Stylez in Salford, Greater Manchester, specialises in creative grooming and once featured in a national newspaper after transforming her pet into Woody from Toy Story.
Laura Cook is a certified master groomer from Oxfordshire with more than 20 years' experience grooming and producing show dogs at major event like Crufts. She now runs her own training school, The Academy at Tails & Tweed.
Kirsty Cooper loves to give her clients something different at her salon, Pet Grooming by Kirsty at Gleve Farm, Congleton, Cheshire, and will be giving an Asian-style demonstration at PATS.
The grooming demonstrations are as follows:
Sunday, 25th September 2022

10am Holly Bridden – Creative Grooming Seminar
1pm Kirsty Cooper – Asian Style Demonstration
Monday, 26th September 2022
10am Kara Boyd ­– Pet Trim Seminar on a Shitzu
1pm Laura Cook – Traditional Trim on a Spaniel
The groomers will also be on the Peanut & Pickle stand (N40 in Hall 3) throughout the show to talk with people and offer one-to-one Q&A and extra demos.
PATS Telford is taking place at the Telford International Centre on Sunday and Monday, 25th and 26th September 2022.
Visitors to the show can register online for free entry at the PATS website www.patshow.co.uk. A full and up-to-date list of exhibitors is available on the website together with information on how to reach the venue and regularly updated show news.