Start-ups get chance to showcase products in New Starter Zone at PATS Telford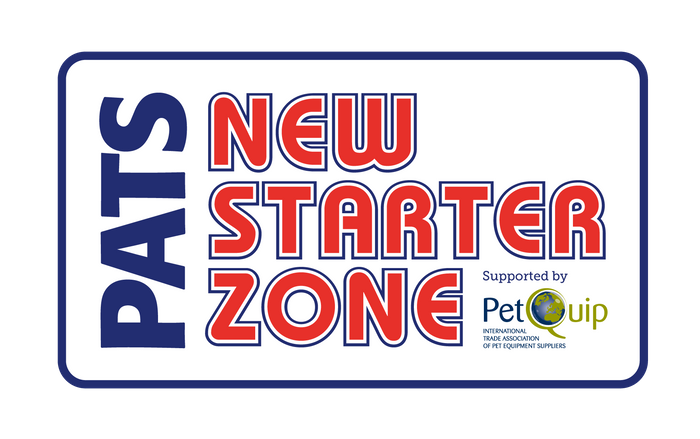 Pet start-up companies are being given the chance to showcase their products in front of the largest collection of retailers and buyers at the UK's pet industry exhibition in October.
They're being offered the opportunity to exhibit in the PATS New Starter Zone, a space entirely dedicated to new businesses and start-ups.
The New Starter Zone, supported by trade association PetQuip, will be a popular feature at PATS Telford on Sunday, 1st October, and Monday, 2nd October 2023, as it will enable buyers to source new and innovative products all in one place.
Companies booking space within the Zone will benefit from a bespoke stand design and will receive a unique marketing package – including additional PR opportunities, social media platforms, enhanced listing within the PATS Telford 2023 Catalogue and email alerts to PATS visitors.
All exhibitors within the Zone will also have free-of-charge entry into the PATS New Starter Showcase. This gives exhibitors an opportunity to display one of their products, judged by Retail and Innovation Expert, Claire Gavin, who will award the Most Innovative Product award.
Claire will be holding a workshop during PATS, offering advice and guidance on getting a product to market as well as tips on what buyers are looking for – this will be exclusively available to exhibitors in the Zone.
Claire will be using her knowledge and experience gained as director of Pets at Home where she led the strategic development of private brands and innovation at the UK's biggest pet retail group.
Having set up her own consultancy, Claire Gavin Innovations Ltd, she is now keen to pass on her expertise to start-up companies, starting at PATS Telford.
"PATS is our biggest UK pet specialty show and I'd recommend it as vital for anyone in the UK pet industry," said Claire.
"I'm always looking for innovation to surprise and delight customers across the world, as well as meet new start-ups and entrepreneurial SMEs who bring new solutions to challenges that face every pet parent. And seeing all the British manufactured product makes me proud too.
"It's actually pretty impossible for me to resist visiting PATS where I can see all the products and meet so many brilliant and inspiring suppliers under one roof. If you're in the pet industry, whether that's as a retailer, distributor, supplier or manufacturer, it's a must attend event."
Nearly half of the stand space in the New Starter Zone has been booked by exciting new start-ups including Wyld Cub, No Fuss Fill, Injoya, Simon's Kitchen, Snoots & Sploots, Paws in Earnest, Dot Dot Pet Co, Snif-Snax and Dernier & Hamlyn.
The timing of PATS Telford is perfect for first-time exhibitor Snoots & Sploots, which markets pet businesses. "This summer we're launching our pet business directories. We couldn't think of a better place for our first official Snoots & Sploots event, and are really excited to meet other businesses that share our passion for furry friends," said Samantha Lambert.
PATS Telford is set to be the largest-ever exhibition in the event's history with three halls of Telford International Centre packed with companies eager to showcase their products and services.
Pet product retailers and buyers can now register for free entry to PATS Telford at the new look website www.patshow.co.uk where a full list of exhibitors can also be found.
Start-ups wishing to exhibit in the New Starter Zone should contact Hattie King at the PATS organisers on 01892 862848.
Ends
Photographs of PATS Telford 2022 are available to download at https://stewartwrittle.dphoto.com/album/xyaf42
For further media information please contact Neil Pope by email press@impact-exhibitions.com