THE DOG TREAT COMPANY INTRODUCES SNIBBLES TO THE UK (PATS Telford)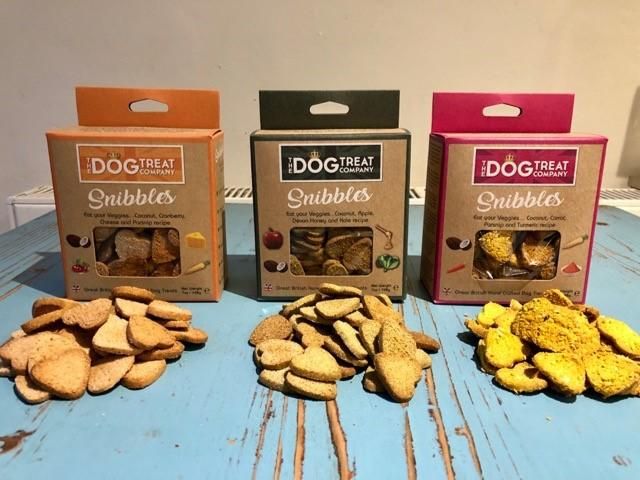 It was the breakout success of The Dog Treat Company's 1st vegan-friendly/gluten-free treat in 2018, (coconut, chia and turmeric) at targeting the growing number of UK dogs suffering from delicate tummies & meat/protein-based allergies, that was indirectly responsible for the launch of the Devon business's 3-strong vegetarian Snibbles range into North America late last month, a range which trumpets its imminent arrival to the UK via PATS Telford next week (mid-Sept).
Snibbles come in 3 deliciously distinct, 'eat your veggies' flavours (made with human-grade ingredients)
Coconut, Apple, Devon Honey & Kale
Coconut, Cranberries, Cheese & Parsnip
Coconut, Carrot, Parsnip & Turmeric
Snibbles addresses the long-standing conundrum regarding when is a snack so much more than a light nibble? The answer is actually simpler than you might first imagine; namely when a treat can demonstrate an unwavering commitment to all-natural, human-grade ingredients packed with bonafide nutritional worth.
According to Dog Treat Company founder, Joe Halliwell, 'Over the years we've noticed a growing crossover between human and pet food values (pet humanisation), as K9 treats move away from convenience, gimmicks, unnecessary fillers, excessive salt and sugar……towards full-bodied flavours, meaningful nutrition, the odd beneficial functional food (e.g. turmeric) and ever greater choice.
Interestingly enough, The Dog Treat Company's treats are baked in a DEFRA approved bakery on the edge of Dartmoor National Park using state-of-the-art human biscotti manufacturing equipment.
Such is the draw of human food values that The Dog Treat Company insisted that Snibbles met more ambitious, everyday price points & bigger family pack formats, that the packaging was made from fully recyclable materials and with 'look before you buy' windows, because a truly transparent/beneficial bite needn't just be an occasional dalliance!'
The Dog Treat Company actually began its life as a luxury home delivery service for pampered pooches, a classy Graze/Hotel Chocolat style idea offering much loved pets 'happy letterbox moments.' Word spread and The Dog Treat Company's reach quickly extended to traditional dog food forums (Fetch, Pets Corner) forward-thinking food halls (Fortnums) and a growing number of increasingly in vogue dog-friendly cafes, pubs even family + dog friendly holiday destinations (Forest Holidays) supplied by the likes of Cotswold Fayre. The Dog Treat Company also enjoys a flourishing export network that extends far beyond north America to other avant-garde pet foods epicentres including Hong Kong, China, Scandinavia, Holland, Italy and South Korea.
Joe concludes by saying, 'No-one is suggesting for a moment that dogs are anything other than meat-loving omnivores, however a one-dimensional meat –themed diet can have unwelcome implications for even the most perfectly proportioned hound (acidity in gut, weight gain poor joints, reduced immunity to illness…)because with 1 in 4 UK dogs still deemed clinically obese, a better balance between great taste and good nutrition needs to be struck.'
Thedogtreatcompany.co.uk
Editor's Notes
Snibbles come in 198g boxes (£3.99 a box)
The aforementioned Coconut, Chia & Turmeric vegan treat reached the finals of 2019 Nourish Awards