Trespaws sets out its stall at PATS with the launch of a new Dogby Down Coat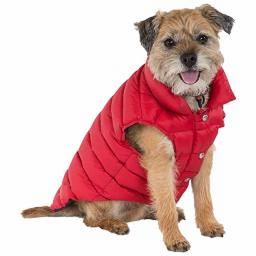 Trespaws, the pet accessory arm of leading Glasgow-based international sportswear brand, Trespass which specialises in skiwear, waterproof jackets, fleeces, festival accessories, walking boots, camping gear and sports leisurewear, will be launching a range of new products at PATS Telford 22-23 September. STAND F50
Among the many new items on the stand, Trespaws will be launching their Dogby Down Coat. Made from 90% Down and 10% Feathers, this ultra lightweight coat is bound to keep any pooch warm during the winter months and is ideal when walking a dog in any inclement weather or in the great outdoors. It is described by Trespaws as being a hug in a coat. Thanks to a high neck and dual front fastenings the coat can be worn in multiple ways so that any dog will look the height of fashion when wearing it. The Dogby Down Coat offers excellent warmth to weight ratio, a secure wraparound style, zip fastening, embroidered logos, contrast lining and a felt badge.
Marihah Khushi the manager of the Trespaws brand who herself is from a veterinary background, wanted to bring the same passion for the great outdoors into the pet accessory range as in the Trespass products.
Marihah says: "Trespaws is a dog lifestyle brand born out of our love for pups and a stubborn need to elevate their adventures and excite their everyday. Our carefully designed products protect and comfort our four-legged friends, while we aim to build a community that'll enrich the lives of dogs and their owners. At Trespaws we are passionate about the outdoors and believe that our beloved pooches should be part of every adventure their human goes on. Our carefully designed range of technical performance dog coats and accessories enable just that, ensuring no matter where your next adventure takes you, your dog can go too.
Trespaws products have been carefully considered and designed to fuse safety and comfort for dogs. Our expert design team use the same design elements from our successful human clothing ranges in our dog range to produce something that is technically advanced and unique in the marketplace."
The Trespaws Dogby Down Coat will be one of the items entered into the New Product Showcase at PATS Telford.
Interested in becoming a stockist? Then visit: www.trespass.com/trespaws or email trespaws@trespass.co.uk.