Visitors flock to Sandown Park on the first day of PATS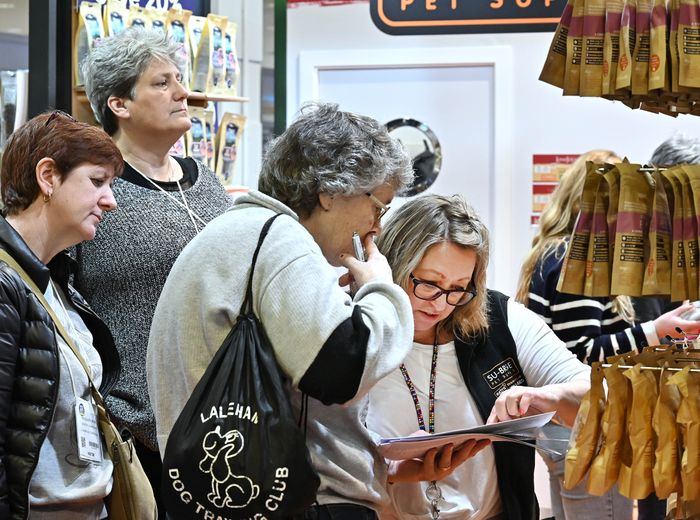 The opening day of PATS Sandown has been hailed a huge success as an amazing array of new products were unveiled by more than 150 companies and brands.
Retailers and buyers braved the rainy conditions so they could be the first people to see all the latest launches to hit the pet market.
Company director Chris Le Saint flew over from Jersey where he owns two pet stores. "Nothing would put me off from being here," he said. "PATS gives me the chance to see and touch the products in person, and that's so important to our business. I can't gauge the true value of a product from a picture in a catalogue. The exhibition also gives me the chance to meet suppliers face to face."
Simone Massey, of Happy Chaps pet store, didn't have so far to travel from her base in Broadstairs, Kent, but she says PATS Sandown still delivers an important service to her. "Being able to see all the new products being launched is vital for any retailer wanting to stay competitive. It keeps us relevant and up-to-date, and there's so much to see. I wouldn't miss it for the world."
The first day of the show also got the thumbs-up from exhibitors excited to showcase their products in front of a captive audience.
Colin Rodger, managing director of Bern Pet Foods, said: "We've been over-run on our stand today. PATS gives us the chance to showcase our many popular brands, so it's always an important event for us."
And Richard Marles, of PARK LiFE, commented: "Last year's PATS Sandown was our first-ever trade exhibition, and it proved to be the launchpad of our business. We've taken a much larger stand this year and it has paid off big time. The response so far has been incredible."
Buddycare was exhibiting at PATS for the first time and it couldn't have worked out better. After winning a New Product Award for its Oatmeal Dog Shampoo, managing director Lewis Ames said: "I didn't know what to expect but it has been fantastic so far. To win an award is such a surprise – it has put the icing on the cake."
Another New Product Award winner, Macahl Animal Health, was also delighted to pick up an accolade for its Vets Menu Tasty Gravy Toppers. Managing director Anthony Mackle commented: "I couldn't wish for a more successful first day. I'm delighted with the response so far, and it's great to see all our hard work pay off with an award."
Lots of interest was shown in FibreCycle's exhibition stand at PATS Sandown, made entirely of paper. After the show the stand will be recycled into cat litter, which will then be donated to Woodgreen Animal Shelter. Matt Brand, FibreCycle's UK National Business Manager, Pet Speciality & Independents, said: "I'm really pleased with how people seem to be engaging with our story. It has certainly got people talking. A show like this helps us to get the message out to a wide audience."
The second day of the show opens at 9.30am on Monday (March 27th).
Ends
Official photographs
Photographs from the show will be available online at https://stewartwrittle.dphoto.com/album/8qe8ob