05 Mar 2021
Wilsons Pet Food extends eco-friendly dog food range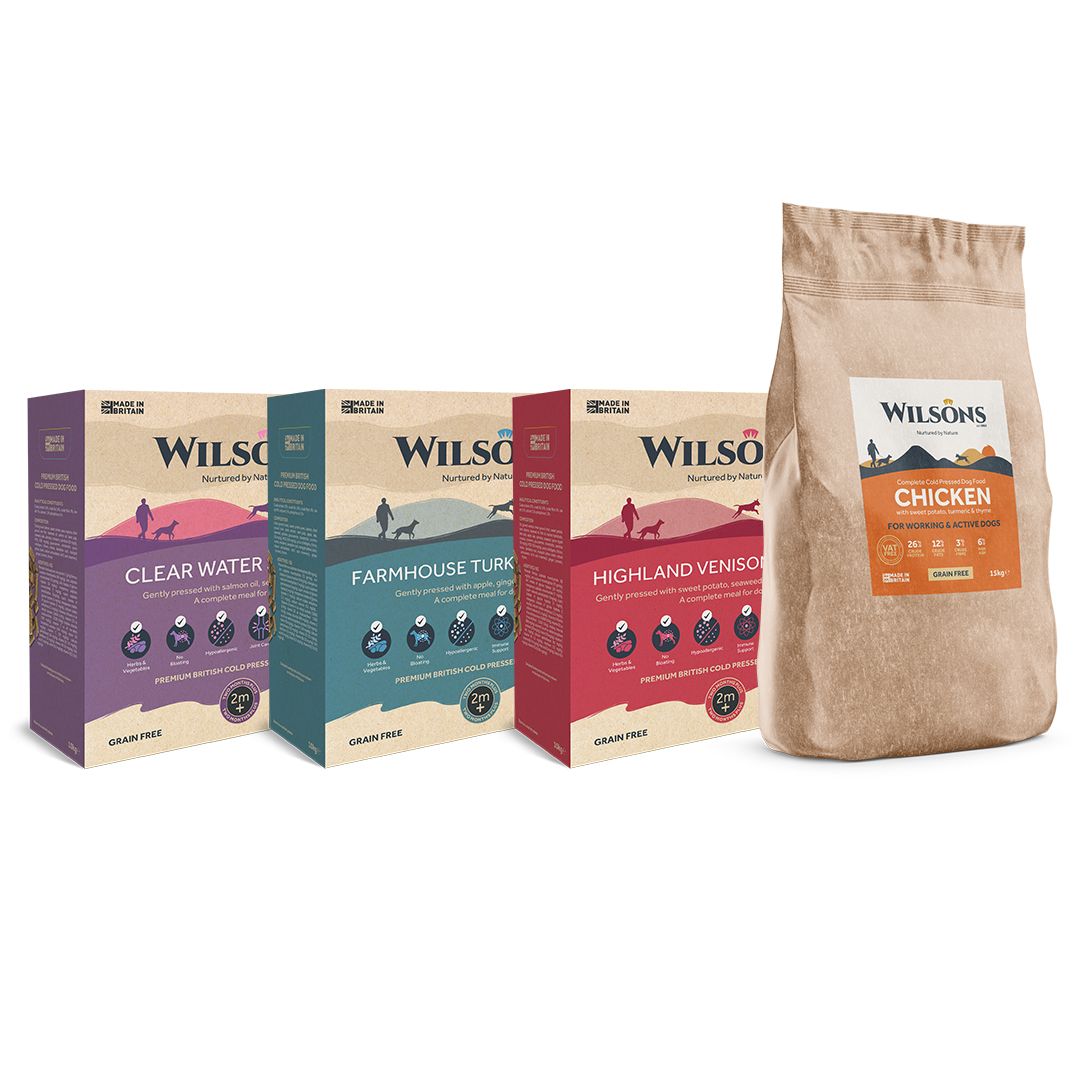 Following the successful launch of their eco-friendly raw frozen dog food last year, Wilsons Pet Food is thrilled to now extend their eco range to their cold pressed dog food in a bid to reduce their use of plastic.
Having produced pet food in the UK for over 160 years, Wilsons produce a range of 100% natural cold pressed and raw frozen dog food which is gently pressed and hand crafted in their purpose-built factories in Scotland.
With the aim of contributing to environmental sustainability, Wilsons have now released their range of eco pack premium cold pressed dog food which joins their existing eco pack raw frozen food to create a superior range of products better suited to how we live today. Their new dry food is packaged in recyclable and biodegradable cardboard boxes with the option for customers to choose to purchase paper refill bags. They have also moved from plastic bags to paper bags for their range of cold pressed working dog food.
Not only have they repackaged their cold pressed food, but they have also improved their current recipes following customer feedback and have introduced 3 brand new delicious premium flavours to their range, including Highland Venison & Trout, Farmhouse Turkey & Duck, and Wild White Fish. Each crafted with a mix of quality ingredients chosen for a range of benefits including anti-inflammatory, better digestion, reduced bloating and more. Across the six flavours, there is choice for even the fussiest dogs, with grain free, chicken free and allergy conscious options available.
Their launch ties in with the reveal of their brand new website, giving customers an even easier way of reordering their dog food by subscription alongside their new loyalty club giving customers points every time they purchase, helping to build towards discount vouchers. Wilsons also continue to support rescue centres through their Wilsons to the Rescues initiative and offer free expert advice and support on their website and social channels.
Managing Director at Wilsons, Craig Wallace, has been looking forward to extending their eco range "We are very fortunate to have such loyal and supportive customers. The changes we have made to our products and packaging ensure we are sticking to our values of crafting dog food with the best quality processes and ingredients which are selected for their tangible benefits to both dog and owner. And as always, proudly made in Britain. It has been a herculean effort by the Wilsons team to ensure we have done everything we can to create eco-friendly packaging whilst also ensuring the food itself is truly good for dogs."
To find your nearest store or to buy their new eco pack cold pressed dog food online, visit www.wilsonspetfood.co.uk