Wilsons Pet Food launch their new charity campaign Wilsons to the Rescues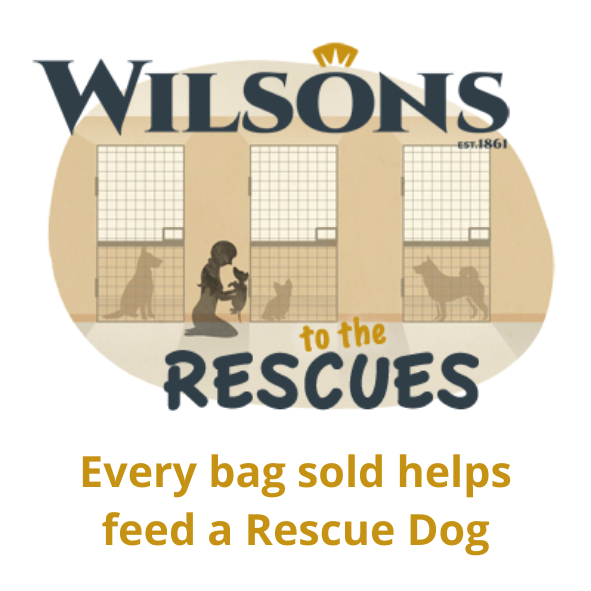 Having produced pet food for over 150 years, this Scottish-based company produces nutritious and delicious Cold Pressed and Raw Frozen dog food, largely made using local sourced produce. Now, their new campaign aims to help feed dogs in rescue centres across the UK.
For every bag of Wilsons Pet Food sold, they donate another 2.5% of the volume of the bag to charity PLUS they are also giving their customers the chance to get involved by voting for the Rescue Centre they want their donation to go to.
For example, with each 10kg bag that is bought, 250g of Cold Pressed dog food will be donated – that alone is enough to feed a medium sized dog for a day!
Wilsons will be launching their new campaign at the National Pet Show this weekend and will be supporting two charities who are also attending the event, Birmingham Dogs Home and Greyhound Trust Hall Green, along with a Rescue Centre close to their Cold Pressed factory, Perthshire Gundog Rescue SCIO.
"Birmingham Dogs Home is thrilled to be one of the three chosen charities to benefit from the 'Wilsons to the Rescues' campaign and know that our homeless dogs will truly benefit from this amazing opportunity." – Jilly Rivers, Fundraising Co-ordinator.
This campaign isn't just about promoting nutrition, but also about helping to raise awareness of national and local Rescue Centres by giving them a platform to share their stories and the amazing work they do on a day-to-day basis.
Dan Griffin, Head of Sales at Wilsons Pet Food, says: "After joining the pet industry earlier this year, I was amazed at the amount of pleads of support we received from Rescue Centres across the UK. As a pet food company, I feel it is our responsibility to ensure that dogs, whether they have already found their forever home or not, have access to the highest level of nutrition. Forming Wilsons to the Rescues has been an exciting project and we're so proud to be able to give something back."
Visit Wilsons Pet Food on stand D340 at the National Pet Show on 2-3rd November to find out more and to place your vote, or you can visit www.wilsonspetfood.co.uk.