Wilsons Pet Food launches new Premium Dog Treats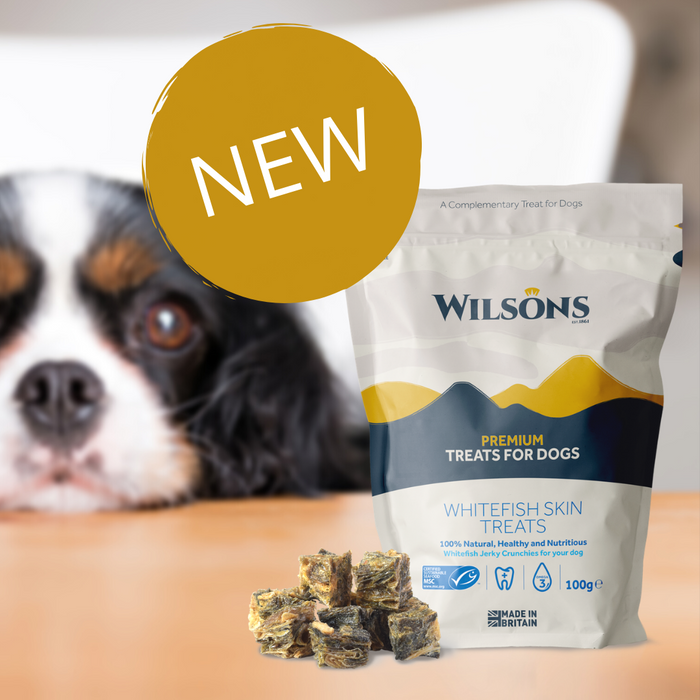 Having produced pet food for over 150 years, Wilsons Pet Food currently offer a range of Cold Pressed and Raw Frozen Dog Food which is made and pressed in their purpose-built factories in Scotland. Their new Dog Treats compliment these ranges by continuing to follow their ethos of being 100% natural and healthy.
Wilsons launched their new Whitefish Skin Dog Treats at Crufts last month and were thrilled at the response from customers, as well as the positive reactions from the many taste testers that visited the stand! Due to popular demand, they decided to make their new range available to the public straight after the show.
Their new Whitefish Skins are 100% natural fish skins, all sustainably caught MSC fish from Grimsby in the UK and is rich in extra vitamins and nutrients found naturally in fish. Its natural rough texture aids reduction in tartar build up on dogs teeth, making it a natural dental aid, is low in fat to support weight control and helps support a healthy coat and skin. These treats are perfect as a training aid or as a healthy snack.
As well as being a great opportunity to launch their new product, Wilsons enjoyed a busy and positive first experience at Crufts 2020 – while meeting a wide range of new customers and clients, Wilsons were able to see first-hand dogs enjoying the entire range of Wilsons dog food.
Head of Sales, Dan Griffin, is excited to extend their range "At Wilsons, we are so proud that everything we sell is made in the UK and 100% natural, this is why it has taken some time to select the right treats. Wilsons Whitefish Skins are sustainably sourced, 100% Whitefish cubes from Grimsby which have great benefits for your dog's teeth and all-round health from its natural oils. At a very affordable price we see this product becoming a staple on many pet shops shelves and in homes across the UK."
To find out how you can stock our new range of Dog Treats, or to enquire about becoming a stockist of our Raw Frozen and Cold Pressed, please contact Dan on 07969514143 or email dan@wilsonspetfood.co.uk.
Find out more about Wilsons Pet Food and their new Dog Treats online at www.wilsonspetfood.co.uk.