24 Aug 2020
Wilsons Pet Food's new Eco-Friendly Raw Frozen attracts UK Pet Retailer of the Year 2019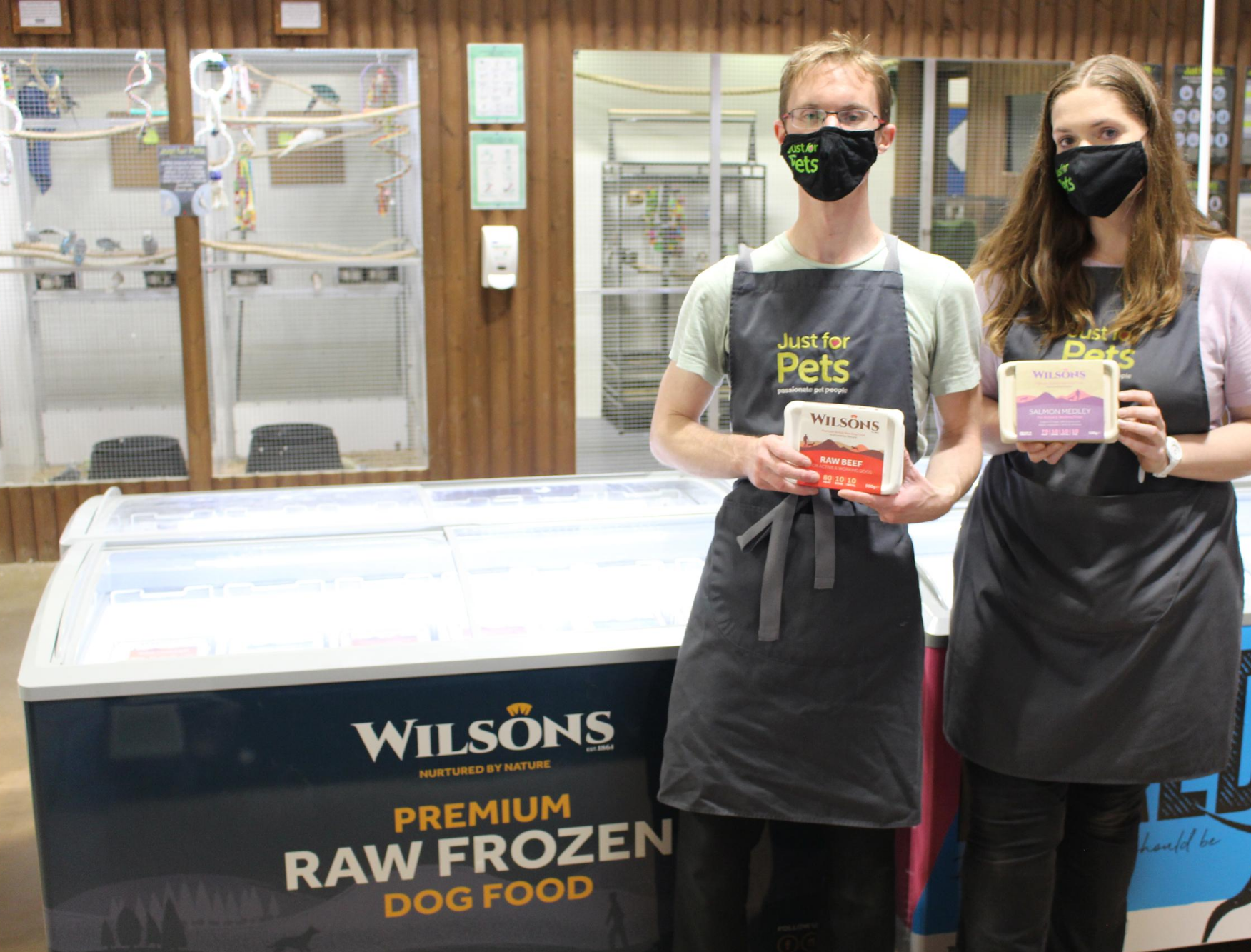 Wilsons Pet Food are excited to add UK Pet Retailer of the Year 2019, Just for Pets, to their growing list of stockists after attracting their attention with their new eco-friendly Raw Frozen dog food.
Established in 1861, Wilsons pride themselves on being a 100% natural and healthy dog food brand who care about their customers, so selecting stores who reflect this ethos is incredibly important.
Their range of Cold Pressed and Raw Frozen dog food are produced in their purpose-built factories in Scotland, and with the addition of their recently developed eco-friendly Raw Frozen packaging they are looking to be plastic-free by the end of 2020. Just for Pets are the first retailers who will be stocking Wilsons' new eco range, which includes their new Core 80/10/10 Raw range.
Since winning UK Pet Retailer of the Year 2019, Just for Pets have continued to invest in their stores that now feature a broader range of food and treats. Hannah Molloy of Channel 4's Puppy School has also been working with the 16-store chain on a new staff training programme, that has a real emphasis on pet nutrition.
Leanne Blunn, Head Buyer at Just for Pets said "We know many of our customers come to store for specialist pet expertise including nutritional advice, we're grateful for the trust they put in us to stock the best quality products for their pet's health and well-being"
She continued "We love Wilsons vision and ethics of producing a complete, high-quality product which uses single source proteins with all ingredients sourced from the UK. Their compostable packaging is also a great addition to our range as we bring more and more eco-friendly and packaging free products into Just for Pets.
Head of Sales at Wilsons Pet Food, Dan Griffin said "After announcing our new eco-friendly Raw Frozen packaging, we've had an incredible response and it's a privilege to add the award-winning Just for Pets to our list of knowledgeable stockists. Since our food hit their shelves we've received positive feedback from customers and staff, and we look forward to making our range of 100% natural and minimally processed dog food even more accessible"
Wilsons is now stocked in selected Just for Pets stores across the UK, including their new range of Premium and Core Eco-Friendly Raw Frozen.
To find out more and see the full range online at www.wilsonspetfood.co.uk.