Winners of the PATS Telford 2020 New Product Awards revealed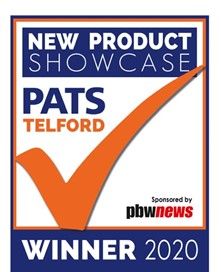 The winners of the highly-prized PATS Telford 2020 New Product Awards have been revealed following a special judging day involving a panel of independent pet retailers.
Entries to the awards poured in after it was announced they would go ahead despite September's show being cancelled due to Covid-19 restrictions.
An impressive total of more than 140 products were entered across seven different categories of the awards, sponsored by pbwnews.
The judges' decisions took into account a number of guideline criteria, such as product innovation, design, quality, packaging and value for money.
All of the entries are posted on the PATS website, giving pet stores the opportunity to see and understand the new products available and to make informed choices about what they may wish to order for the crucial months ahead.
"It was great to see that our exhibitors took this opportunity to showcase their new products in this way," said PATS organiser Gordon Thomas, of Impact Exhibitions and Events. "It proves the value and importance of the PATS Awards, and we know that winning is viewed as a big achievement within the pet industry.
"I'd like to thank our sponsors pbwnews for helping to make the judging day such a success, and our panel of independent retailers for taking the time to attend and judge the winners. Social distancing and other measures were in place. The judges said it was vital to be able to see, touch and feel the entries before making their final decisions."
Here is a full list of the winners together with the judges' comments:
CAT FOOD AND PRODUCTS
Winner: Cat LickiMat Slomo from Sharples Pet
It was a unanimous decision from the judges, who agreed this product is sturdy and of high quality. It's so good that one judge uses it for her own dog.
DOG ACCESSORY AND TOYS
Winner: Ultra Fetch Stick by Chuckit (from Pedigree Wholesale)
The judges loved this product's sturdiness and value-for-money ­and they liked the fact that it floats. They said everything about it is good.
DOG FOOD AND PRODUCTS
Winner: Eco-Friendly Premium Raw Core 80/10/10 Raw Frozen Dog Food from Wilsons Pet Food
The judges liked the green credentials of this product, and felt it also has a good price point.
Highly Commended: True Instinct from Natures Menu
DOG TREATS AND PRODUCTS
Winner: No Hide The Feast Limited Edition Chew by Earth Animal (from Pedigree Wholesale)
This was a closely contested and well-supported category. The judges decided the winner was No Hide Chew, billed as 'the healthy alternative to raw hide'. They liked the price point (from £3.99) as well as the ingredients (turkey, pumpkin and cranberry), and felt the chews would last well.
Highly Commended: Paddock Farm Ostrich Metatarsus Bone from Antos
GROOMING PRODUCTS
Winner: HOWND Spa Banana Facial and Natural Tear Stain Treatment from HOWND
The judges said the product had a pleasant smell and would be good to use on dogs at home as a face wash. They also liked the fact it's paraben-free.
PETCARE PRODUCTS
Winner: Country's Best Minavital from Versele Laga
This enriched mineral mix for poultry impressed the judges, who agreed it was an easy and effective way of giving chickens multi-vitamins. With the chicken sector growing rapidly, this value-for-money product should be a big seller.
SMALL ANIMAL AND BIRD PRODUCTS
Winner: Pet Remedy Small Mammal Calming Kit from Pet Remedy
The judges liked the product and the fact that it actually had a small animal picture on the packaging. One judge vouched for the calming product, having used it themselves and finding it to be really effective.
Retailers can now vote for what they think should be Best in Show from the winners listed above. Go to www.patshow.co.uk/buyers-best-in-show-new-product-award#/ All votes will have the chance of winning M&S vouchers worth £100.
Voting closes at midnight on October 13, 2020.
All items entered for the New Product Awards were donated to PATS' chosen charity Dogs for Good, who train assistance dogs for adults and children with physical disabilities, to use as competition prizes at their many events.
The charity's Corporate Partnerships Manager, Cathryn Simpson, said: "Dogs for Good really do value the kind generosity of PATS and the pet industry in general for supporting the charity in this way, especially during these challenging times."
For more information contact Neil Pope at press@impact-exhibitions.com or on 07595 442601.