01 Oct 2020
Winners of the PetQuip Awards 2020 revealed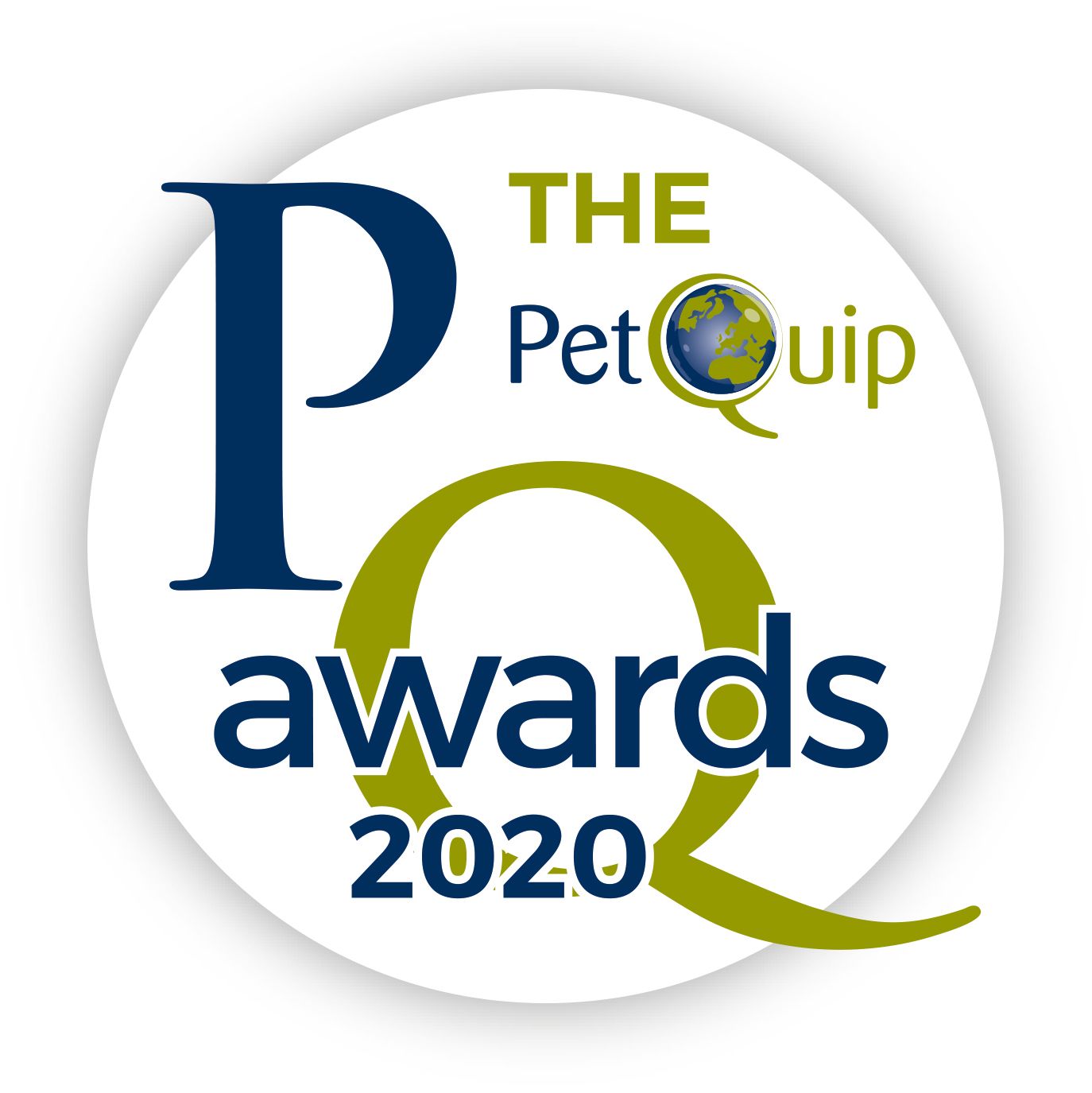 Following six months of turmoil caused by the coronavirus pandemic, the UK pet industry can finally celebrate some good news with the announcement of the 2020 PetQuip Awards winners.
This year nine UK companies are celebrating winning Gold Awards, with eight picking up Silvers, and six receiving Highly Commended accolades. PetQuip has also recognised the outstanding work of Eddie Milbourne, founder of the Canagan Group, with a Lifetime Achievement Award.
It wasn't possible this year to present the awards in person at the special gala event during PATS Telford as planned when the exhibition was cancelled due to Covid-19 restrictions.
However, PetQuip decided it would recognise and celebrate innovation within the pet industry in an equally innovative way, so the judging by a panel of retailers and marketing experts took place as usual.
To give this year's winners and finalists as much exposure as their achievements deserve, PetQuip has produced a Winners' Special digital magazine, which can be accessed at https://bit.ly/30nLZlO. The magazine will also be posted on the www.petquip.com and www.patshow.co.uk websites.
"We would like to congratulate not just our worthy winners but all our entrants who made it through to the finals – it's not an easy task and our judges were rigorous in their assessment of all entries," said Pat Flynn, PetQuip's Trade Association Manager.
Here is a full list of the award winners:
Marketing Project of the Year
Gold Award: Judge's Choice
Silver Award: Barking Heads
Highly Commended: ProDog Raw
The judges felt that Judge's Choice, through its campaign led by Elda Digital Creatives, had shown it is possible to use social media to target individuals and groups and dramatically reduce marketing spends when compared to traditional advertising methods.
Exporter of the Year
Gold Award: ChickenGuard
Silver Award: Natures Menu
Highly Commended: Eden Holistic
The judges recognised ChickenGuard as being a leading innovator in automated chicken coop door openers and was impressed by its growth in export sales, especially to so many countries worldwide.
Product of the Year – Accessories/Technical
Gold Award: Lah De Dah Dog – dog walker's cross body bag
Silver Award: Meg Heath Dog Leads – car boot lead
Highly Commended: The Green Poop Bag company – compostable poop bags
The judges said the design of the 'Walkies' bag was both eye-catching and practical. They were impressed by the amount of things that could be packed into it, and felt it was good value-for money at £25 (RRP).
Product of the Year – Food/Treats
Gold Award: Clydach Farm – Taste of British Isles Complete Kibbles
Silver Award: Goodchap's – Catfish Twirls; Doggy Bag (goody bag); Canine Christmas Cracker
Highly Commended: Different Dog – hand-made dog food range
The judges were impressed how Clydach Farm's 'Taste of the British' Isles portfolio had revived the reputation of top-tier pet food kibbles.
Product of the Year – Healthcare/Grooming
Gold Award: Sniffe & Likkit – complete grooming range
Silver Award: Henry & Co – ear cleaner for dogs
Highly Commended: WaggleAntics – Tick Defence
Fun, fabulous and fragrant said the judges, this company's multi-tasking formulas combine a powerhouse blend of naturals, actives and botanicals, to deliver high-quality grooming results at home, or on-the-go.
Supplier of the Year
Gold Award: Goodchap's
Silver Award: Eden Holistic
Highly Commended: Four Paws Country Pet Hotel
The judges felt that Goodchap's provides a unique range of products backed up by excellent service to its customers.
International Retailer/Wholesaler/Distributor of the Year
Gold Award: Wanimo, France
Silver Award: IRIS, Slovenia
The judges recognised that Wanimo supplies quality products at competitive prices and also offers a free veterinary advice service to its customers.
UK Retailer of the Year
Joint Gold Award: Ginger & Browns, Blakemere Village, Cheshire; and Scampers Natural Pet Store, Ely, Cambs
Silver Award: Trusty Pet Supplies, Derby
The judges felt Ginger&Browns deserved recognition for setting remarkably high standards since opening four years ago and for continuing to innovate and grow the business even during the current difficult times caused by Covid-19.
The judges said that Scampers continues to set high standards and is indeed the benchmark for innovation and specialist pet care, not just in the UK, but internationally too. It is an incredible independent business that deserves success and recognition.
Lifetime Achievement
Eddie Milbourne, the Canagan Group
The judges felt Eddie deserved this high accolade for building a highly successful business while sticking to his promise of supporting independent pet stores.
Follow the link https://bit.ly/30nLZlO to our Awards Special to see full details.
The 2020 PetQuip Awards are sponsored by APPA/Global Pet Expo, Natures Menu, PATS Sandown & Telford, and pbwnews.
Please contact PetQuip if you would like to benefit from membership of the association or require any further advice and assistance on:
Email: info@petquip.com
Websites: www.petquip.com
For further press information contact:
Neil Pope
PetQuip PR Consultant
Tel: 07595 442601
Email: press@petquip.com
This announcement has been issued by Neil Pope PR Consultant on behalf of The Federation of Garden & Leisure Manufacturers Limited from information provided by the Federation or from organisations associated with the Federation's initiatives. Reasonable steps have been taken to ensure that the information it contains provided is accurate. However, Neil Pope PR Consultant assumes no responsibility for information contained within the document and disclaims all liability in respect of such information. Neil Pope PR Consultant shall not be held liable for any losses suffered as a result of issuing this information to the press or its use within the media.