COMPLETE Beef Mince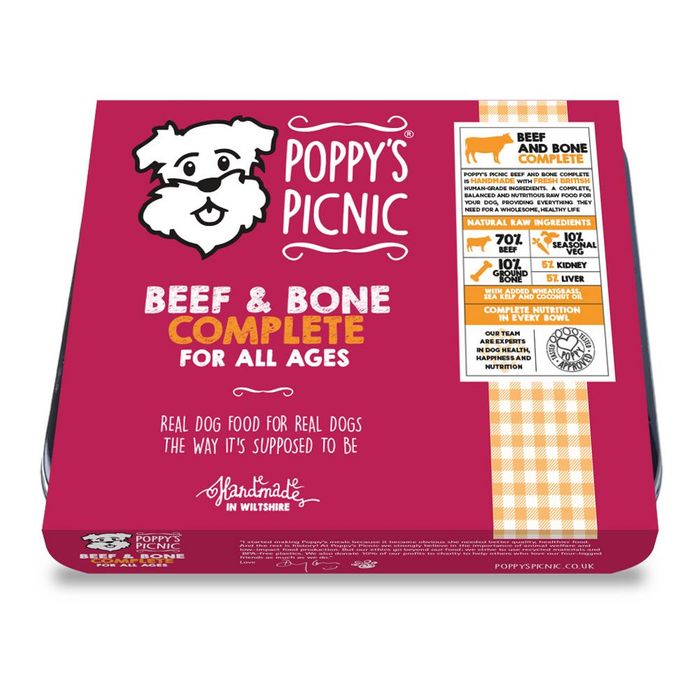 Fresh, raw Beef Mince - your dog won't bull-ieve how tasty it is!
Delicious, tender beef Mince packed with fulfilling goodness that's yummy and easy to feed.
Poppy's Picnic COMPLETE Beef Mince is handmade in the heart of Wiltshire using fresh raw beef (like you would buy in the supermarket), liver, kidney, dog friendly garden vegetables, fresh parsley and a dash of coconut oil & flaxseed oil. We also add wheatgrass, sea kelp and spirulina (a powerful microalgae and a great source of Omega 3 containing both EPA & DHEA).
Our packs of COMPLETE Mince are easy to feed and mess-free, no mucky pups here!
Composition
50% Beef
20% Ox heart
10% Ground beef bone
10% Vegetable mix (Cabbage, Parsnip, Carrot, Swede, Butternut Squash, Parsley, Wheatgrass, Spirulina and Sea Kelp powders, Coconut and Flaxseed oil)
5% Ox liver
5% Ox kidney
Analysis percentage per 100g
68.1% Moisture
18.2% Protein
11.5% Total fat
4.4% Ash (we don't add ash This is the residue left after burning the sample to make the analysis)
0.9% Crude Fibre