Benevo Adult Cat Food 2kg & 10kg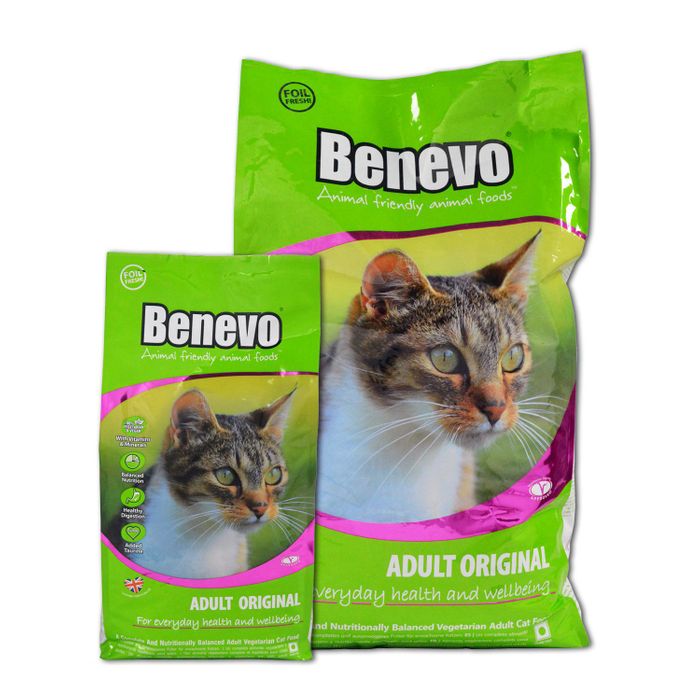 Benevo Adult Cat is a nutritionally complete​ ​and​ ​balanced​ ​vegan food​ ​for​ ​adult​ cats.

Designed for carnivores, Benevo Cat is a professionally formulated nutritionally complete food for cats, featuring a completely animal-free ​recipe with no​ ​GM​ ​ingredients, artificial flavours or colours.

It contains a non-animal source of taurine, omega 3 & 6, added nutritional spirulina, a ​prebiotic​ ​FOS to aid digestion and Yucca extract to help with odours. Our unique recipe meets and exceeds the European standards for the minimum nutritional levels for adult cats. Presented in foil​-​fresh​, multi-language packaging.
Did you know 1 in 20 of your customers are vegetarian? Veggie pet food creates great long term loyalty from customers buying for ethical, medical or religious reasons.
Accredited by the UK Vegetarian and Vegan Societies as well as PeTA for being cruelty-free. Awarded 100/100 by the Ethical Company Organisation. Our organic dog food is ranked 20/20, the highest score of any dog food by Ethical Consumer Magazine.