Brinsea's TLC Small Animal Intensive Care Units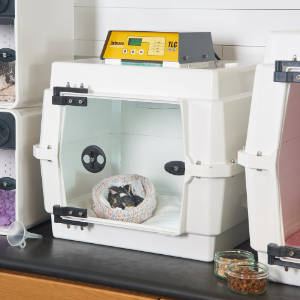 Brinsea's TLC range of Intensive Care Units include three sizes (the 30, 40 and 50 models) and two levels of sophistication (the Eco and Advance). The units have several functions and are used by rescue and rehabilitation centres all over the world as well as small animal breeders.
These units can be used for:
Bird brooding - especially for exotics and raptors. Altricial species of birds (including all parrots and birds of prey) are blind and helpless when they hatch and it is some weeks before they are able to move around, control their body temperature and feed themselves.
Recovery incubator - for birds and small mammals, a TLC can also double as a hospital cage for sick or injured birds, these units are used in conservation programmes worldwide.
Intensive Care Unit - the best place for weak and fragile baby animals to heal, hide, cuddle, and grow – especially for tiny babies who aren't yet old enough to retain their own heat.
With hygiene a top priority, all models have been carefully designed to make cleaning as easy as possible. Brinsea incorporate Biomaster Antimicrobial Protection into our TLC cabinets during manufacture. Biomaster Protection is embedded within the plastic itself which prevents the growth of harmful bacteria helping to provide the optimum environment for recovery