Fish4Cats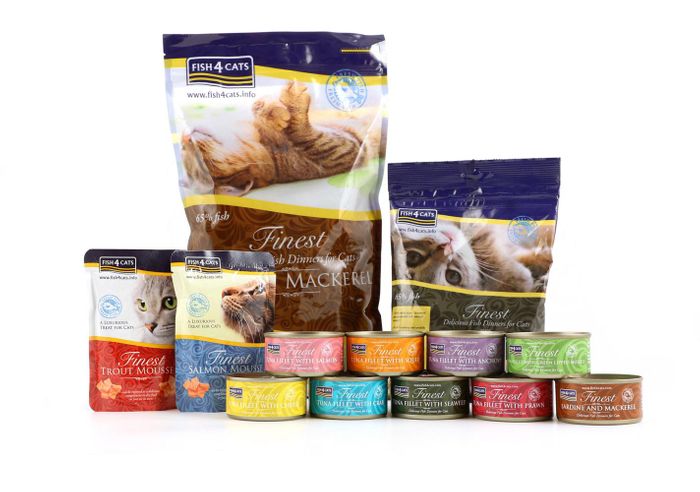 Fish4Cats is part of the Fish4Dogs family, which means we have the same commitment to producing healthy and delicious pet food.
We understand that cats' dietary requirements are completely different to dogs, which means our cat food recipes are specifically geared towards addressing their needs.
Like our dog food, our cat food products are all natural, premium quality ingredients – we use fully traceable raw materials, with no preservatives, additions, unnecessary bulking agents or colourings.
Finest Wet Cat Food
Winner of PATS, Telford 2018 New Cat Product Award, our complimentary wet can food is produced from sustainably sourced, premium quality fish and is available in 15 luxurious flavours to tempt even the fussiest of cats.
Tuna Fillet with Prawn
Tuna Fillet with Crab
Sardine and Mackerel
Tuna Fillet with Cheese
Tuna Fillet with Salmon
Tuna Fillet with Seaweed
Tuna Fillet with Anchovy
Tuna Fillet with Squid
Tuna Fillet with Green Lipped Mussel
Sardine with Anchovy
Mackerel with Shrimp
Sardine with Mussel
Mackerel with Squid
Sardine with Shrimp
Mackerel with Anchovy
Available in 70g cans.
Finest Dry Complete Food
High fish content kibble in 3 delicious flavours, now in smaller, even more appealing kibble size.
Finest Mousse
To compliment our dry food, Fish4Cats Finest mousse is available in both Salmon or Trout, grain free recipes. A delicious wat to ensure adequate hydration.
Available in 100g pouches.