16 Jul 2018
Hokamix Skin & Shine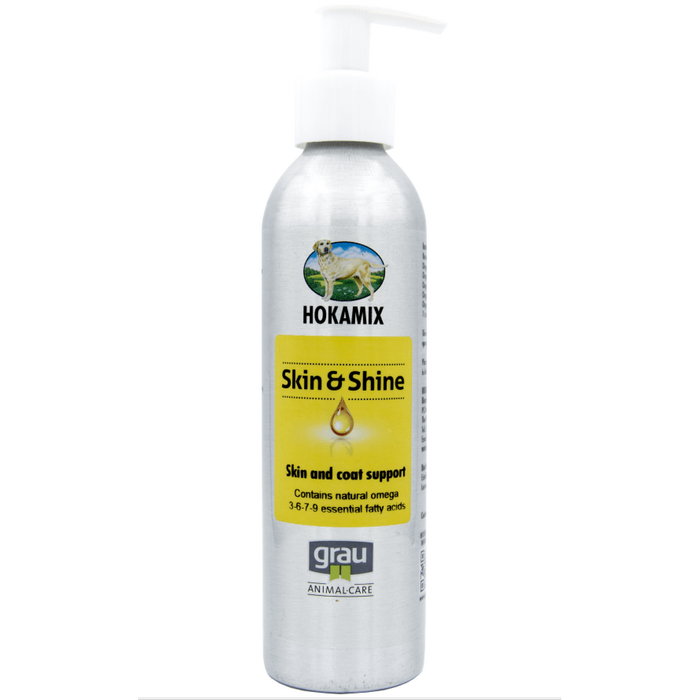 Hokamix Skin & Shine is rich in Omega 3, 6 and 9 fatty acids from cold-pressed nuts.
It improves the skin and coat condition considerably and decreases inflammation.
Also perfect to use in combination with Hokamix Forte to achieve a quicker result.
Perfect for:
long haired dogs
rapid result 4/5 days
serious problems, eczema, thick skin, massive shedding
very dry skin
fatigue and stamina problems
Fatty acids are essential for the body. The body can't generate them itself so they need to be added to the diet. Today's complete foods already contain essential fatty acids but due to the product been heated during the manufacturing stage the quality and effectiveness is considerably reduced.. Over a short period of time these fatty acids react with oxygen and are converted from unsaturated to saturated fatty acids that have little benefit. A deficiency can cause baldness (alopecia), greasy coats and skin infections. These complaints can be relieved, and also prevented with Skin & Shine.

Skin & Shine, a remarkable product!
Most products only contain Omega 3 and 6 based on fish oil. That can create a greater risk of diarrhoea and have a shorter term preservation. Fish can also be contaminated with, for instance, heavy metals or antibiotics.
Skin & Shine is rich in Omega 3, 6 and 9 fatty acids from cold-pressed, unrefined nuts. Furthermore the content of vitamins is slightly elevated for a better and faster effect. The aluminium bottle with pump dispenser completely protects the product from (sun)light and oxygen and this prolongs the active life of the fatty acids. The product is easy to administer.