PUPPY EXPERT Follow-on Paste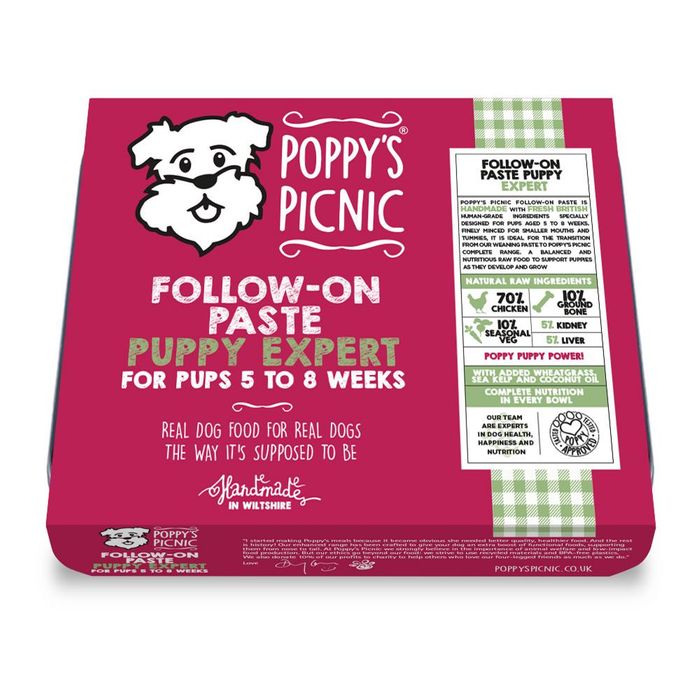 A world first! Our PUPPY POWER Follow-on Paste has been specially developed for puppies aged 5 to 8 weeks.
Finely ground and freshly made with delicious tender British chicken, PUPPY POWER Follow-on Paste is a super healthy and convenient meal to feed growing pups and will help to prepare them to move on to our adult raw food.
Made with tummy friendly chicken, our Follow-on Paste uses the same natural and wholesome ingredients as our COMPLETE range which we finely mince for smaller mouths. Raw chicken dog food recipes are easy on your puppy's gut. And raw feeders all know about the result… biodegradable dog poo that is smaller, less frequent and less smelly, making clearing up a better experience.
Composition
70% Chicken
10% Ground chicken bone
10% Vegetable mix (Cabbage, Parsnip, Carrot, Swede, Butternut Squash, Parsley, Wheatgrass, Spirulina and Sea Kelp powders, Coconut and Flaxseed oil)
5% British ox liver
5% British ox kidney
Analysis percentage per 100g
66.1% Moisture
16.7% Protein
11.2% Total Fat
3.3% Ash (we don't add ash! This is the residue left after burning the sample to make the analysis)
1.9% Crude Fibre