31 Dec 2019
UKOM Special Operations K9 Harness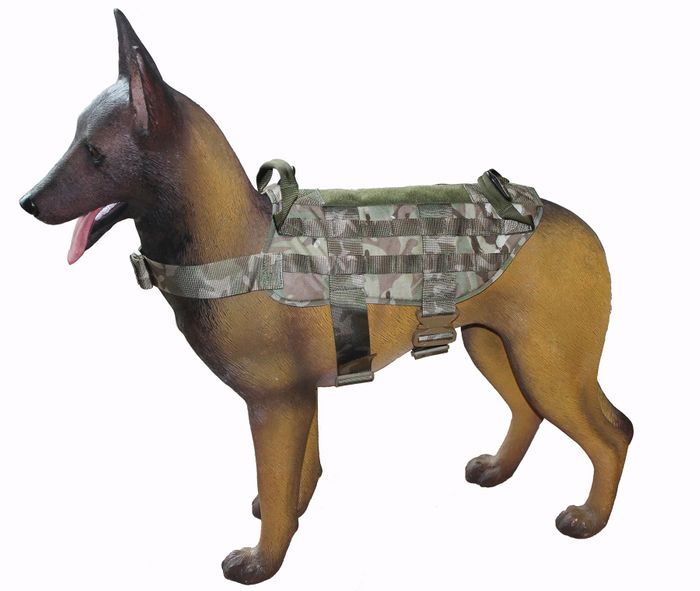 This UKOM K9 harness was designed to be a complete harness that would be suitable for Military and Law Enforcement, with no upgrade needed if you wanted to change from a search dog role to parachuting with it.
The harness is exceptionally comfortable for the dog compared with other designs when Abseiling/fast roping, parachuting, passing a dog ship to ship and other duties.
This harness is in use with the UK Military (See Pictures)
This harness is now being used by many UK police forces and extensivly by military units around the world
The harness also uses the Mil and parachute specification V Rings. These V rings not only allow a wide range of ways to move your dog but also allow a front and rear hook up point for a lead/leash.
All webbing and cordura is military specification and fit for use.
Comfortable and lightweight
Choice of Miltary Specification plastic buckles or Lightweight AustriAlpin Cobra Buckles
The harness has Molle/palls on the side of the harness which are used in conjunction with attaching cameras, floatation aids and also allows mission specific kit to be carried.
The harness has 2 lifting handles on the top allowing you to easily pick your dog up.
The harness is ideal in a maritime role for dogs assaulting targets at high angle, in mountainous terrain, from helicopters, or to gain access to floors above ground level that are booby trapped or guarded by hostiles, for hostage rescue or surgical extraction
This harness is also ideal for anyone that just wants a fantastic harness.
The two sizes of the harness are based on working breeds such as German Shepherds, Belgian Malinois, Labrador Retrievers, Australian Shepherds, Huskies, and Malamutes. We ask that you decide if it is a large or a small version of one of those breeds. It has been tested on dogs ranging from 40lbs to 130lbs so will fit a wide range of other breeds.