Great response as PATS Sandown celebrates successful 25th show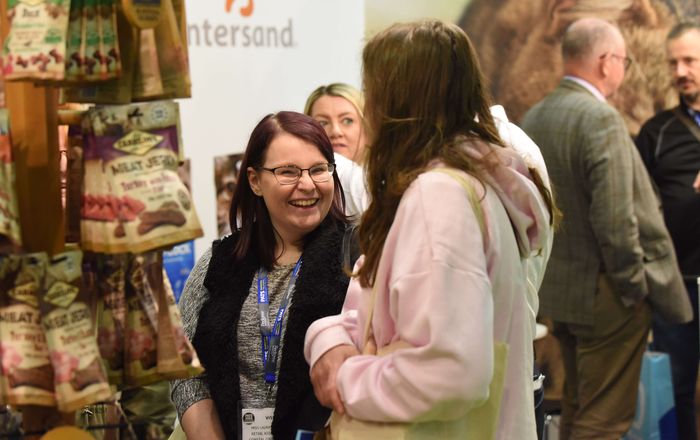 PATS Sandown has proved itself yet again to be the UK's No.1 Spring pet industry exhibition with suppliers and buyers agreeing the show had been a huge success.
With more than 130 companies and brands exhibiting their vast ranges, there was plenty for visitors to see and talk about during two days of non-stop activity.
As PATS celebrated its 25th show, exhibitors were quick to give their approval of this year's event.
"Without exception PATS is the most important pet trade event in the UK. It's the ideal show to forge and build relationships within the industry," said Will Baggaley, international sales and marketing director at Earth Animal.
And Jonothan Goodman, director of In Vogue Pets, commented: "We're thrilled to bits with the response we've had at PATS Sandown. There are four of us on the stand and we've been kept busy throughout the show. We had a fantastic event when Sandown was last held but I have to admit this one has been even better with record numbers of inquiries and orders."
Liane Avery, operations manager of Pet Trade Innovations, said: "It has been a great show. In fact, we were that busy we ran out of show offers on the first day."
Meanwhile, Doreen Werner, sales and marketing manager of German company Mealberry, welcomed the chance to exhibit at PATS Sandown after a two-year break caused by the pandemic. "It's wonderful to be here following all the travel restrictions. We were thrilled to win a New Product Award on our return to international events, and it has created a lot of interest from both new and existing customers."
PATS Sandown celebrated its 25th show at a special drinks reception, sponsored by pbwnews, after the first day. The event also marked the 50th anniversary of loyal exhibitor Pedigree Wholesale.
Pedigree Wholesale managing director Gerard O'Mahony said: "It's wonderful to celebrate our milestone alongside PATS. We've had a great relationship with the exhibition over the years and it's great to see it go from strength to strength."
The first company to book a stand at the opening PATS Sandown exhibition back in 2009 was Inspired Pet Nutrition (IPN) and sales director Ben Anderson commented: "I have attended all the shows and have enjoyed everyone. I feel honoured and privileged to have been a part of the PATS success story and look forward to the next 25 shows."
Much of PATS Sandown's success is down to the fact it provides the perfect platform for retailers and buyers to see, feel and touch all the latest new products under one roof.
The year's show was no exception as visitors gave it the thumbs up. Carol Bishop, manager at Willowbrook Pet Supplies in Somerset, said: "A trip to PATS is always worthwhile as it enables us to see the new trends and new products at first hand. I've seen some great ranges which we'll be stocking in the next few months."
Danielle Sargent, retail manager for Battersea Dogs and Cats Home, added: "PATS is a great place to source products for our three retail outlets and online business. We've been spoiled for choice as there has been lots to see this year."
Pet buyers from garden centres also heaped praise on the exhibition. Chris Brown, of Garsons, said: "This is our one-stop place for buying pet products for our garden centre. It's the best place for picking up new supplies." It was a similar story for Longacres Garden Centre, whose pet services manager Barbara Nottage added: 'I love the relaxed and welcoming atmosphere of the show. It's well laid-out, making it easy to source new products. We wouldn't miss it."
This year's show also welcomed back international buyers following the easing of travel restrictions. Rob James, of Petwork Marketing, sources UK-manufactured products for a network of 50 stores across Spain, and he attended the show with partner Mireia Sabate de Val , who owns Princeps de Casa pet store in central Barcelona.
"It's essential that we come to PATS because it is a great place to find products that haven't been seen in mainland Europe," said Rob. "The range of products on show has been of the highest quality. Without doubt it has been the best PATS Sandown yet."
Date for the diary
PATS Telford: 25th-26th September 2022
Official photographs can be downloaded at Photographs of the presentations are available at https://rileyphotos.dphoto.com/album/y8p2d2
For more information contact Neil Pope at press@impact-exhibitions.com or on 07595 442601.